Maddy McVicar and Ali Gorrell combined for an eye-catching 57 points as Newcastle Eagles edged a thrilling clash against playoff rivals Oaklands Wolves.
The backcourt duo enjoyed a super Sunday as Chris Bunten's side moved four points clear of the Wolves in the race to secure a top eight finish.
Watch full highlights of Eagles WBBL vs Wolves:
Gorrell fell just two assists short of what would have been a famous triple double and McVicar exploded after the break to plunder a game-high 30 points.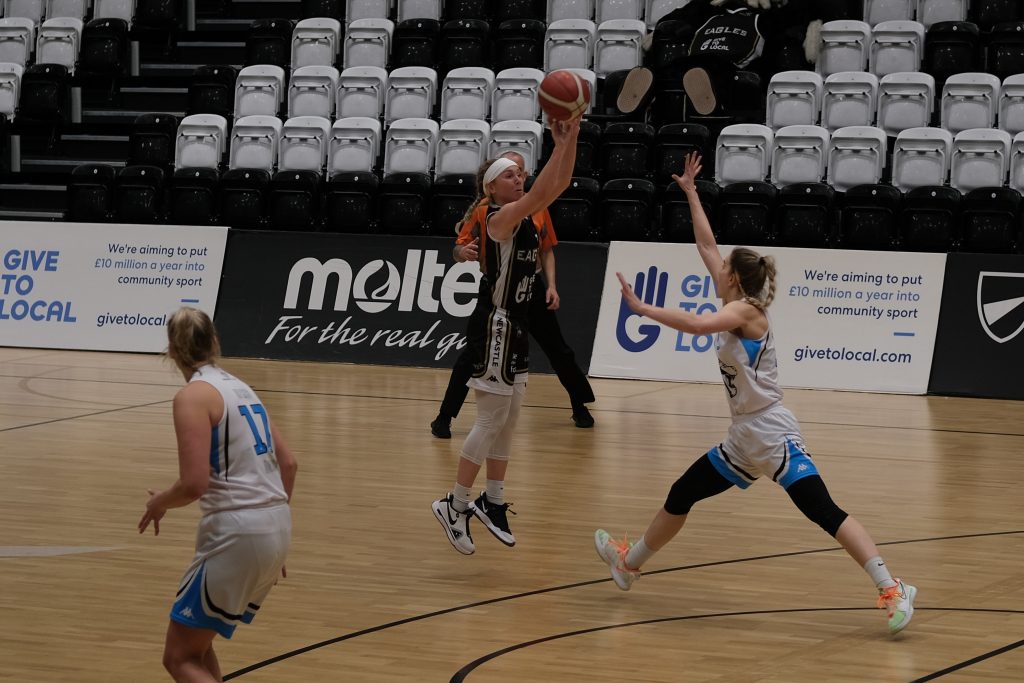 Newcastle needed to bounce back just 24 hours after a humbling defeat at derby rivals Durham Palatinates.
Profligate shooting from the bonus stripe had gifted Lee Davie's side a second league win of the season on Saturday.
But the Eagles had struggled to find their range full stop and the pre-match warm-up focused heavily on finding the basket.
Early success from beyond the arc kept Newcastle in contention during a high-scoring first quarter.
And although neither side appeared fully committed to anything resembling defence, an entertaining period of basketball showcased the myriad attacking options at the disposal of both coaches.
Bunten saw his side hit four from four from three-point range in the first 10 minutes.
But Wolves were finding just as much space on the perimeter and meeting little opposition in the paint.
The visitors — missing Merissa Quick — paced the lanes time and time again with star guard Melita Emanuel-Carr picking up eight first period points.
And Oaklands fully deserved their 27-26 lead heading into the second quarter.
Two attacking teams traded baskets as play resumed but a 19-8 Wolves tear blew a fascinating bottom five battle wide open.
Lizzy Harrison and Greeta Uprus were starting to heat up for the increasingly confident visitors.
And things went from bad to worse for an agitated Bunten as hometown favourite Ori Chukwu-Etu picked up three fouls in as many minutes.
That put the Newcastle University student on four fouls with 26 minutes to play and forced the early withdrawal of one of the WBBL's best rebounders.
Oaklands led 49-38 with two minutes of the half remaining and the St Albans-based side maintained their 11-point advantage heading into the locker room.
WBBL MVP contender Gorrell could barely hide her frustration as the American trooped off court to reflect on another tough half of basketball.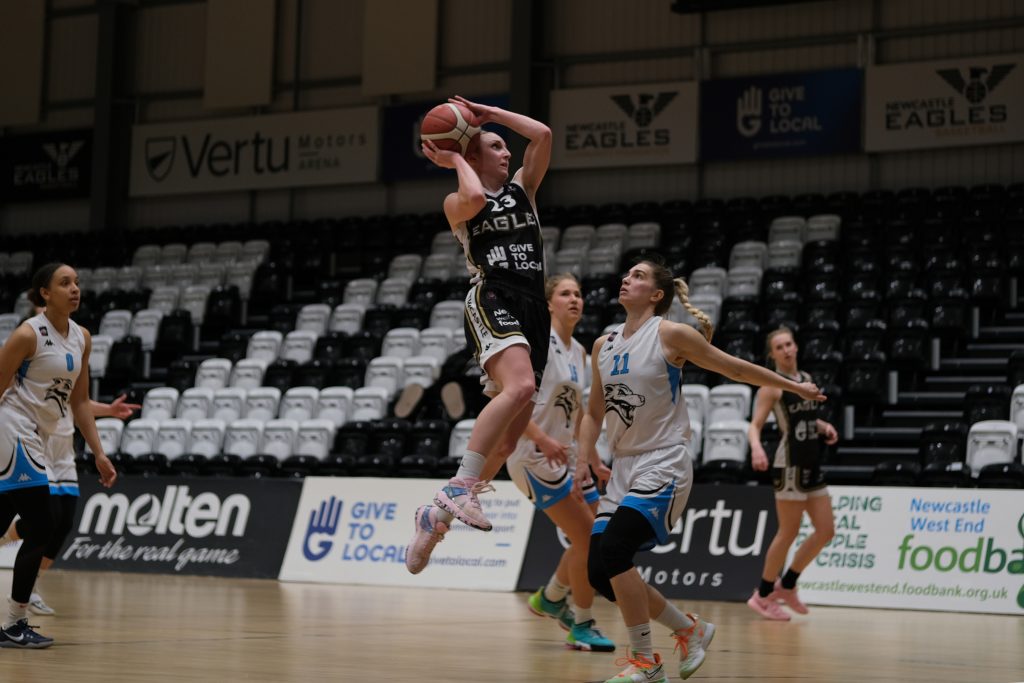 And Bunten had work to do to get his team back on track and prevent a second loss in as many days.
The Eagles did improve after the break but it was against a backdrop of persistent foul trouble during an increasingly feisty encounter.
Rachael Bland and Abby Lowe joined Chukwu-Etu on four fouls and Millie Oates entered the fray braced for some serious minutes in a must-win clash.
Lowe had moved on to 18 points prior to exiting the third quarter prematurely but once again it was the irrepressible Gorrell leading Newcastle's fightback.
The Eagles skipper was swarming all over Wolves in a bid to get her team back in contention.
And Gorrell finished the third quarter with another stuffed stat line — her 21 points, 10 rebounds, seven assists and four steals underlining the star quality of Newcastle's most consistent performer.
The hosts had turned things around heading into the final period and a strong start to the fourth quarter maintained the momentum.
Oaklands' coach Lee Ryan picked up a technical foul after turning the air blue and the playcaller was forced to call a timeout minutes later.
A 9-1 Eagles tear had opened up a 77-68 lead and the majestic McVicar was beginning to make her mark with a flurry of ice-cool threes.
Three back-to-back triples kept the Wolves at bay as Newcastle's nifty American moved ahead of Gorrell to lead all scorers.
But Oaklands tied a thrilling clash 83-83 with less than three minutes to play and it was down to Eagles' guard Jorjah Smith to decide an epic fixture as she sank one of two free throws at the death.