| | | | | | | |
| --- | --- | --- | --- | --- | --- | --- |
| Newcastle Eagles WBBL | 14 | 21 | 23 | 8 | 66 | Win |
| Durham Palatinates | 22 | 10 | 11 | 18 | 61 | Loss |
After a regular season full of adversity, the season looks like it will end for Newcastle Eagles in the play-offs after a fine Derby Day win over Durham Palatinates. That was Head Coach Chris Bunten's goal after a campaign that has been hit with injuries and departures throughout.
Even yesterday's 5-point win over a gritty and tenacious Durham side had pre-game drama with Australian guard Jorjah Smith choosing to curtail her time in Newcastle early and fly home. It left a hole on the Eagles bench that Bunten was hoping others would step into and they did.
Watch highlights of Eagles WBBL vs Durham Palatinates
For Durham who had beaten the Eagles 75 – 70 just eight days ago on their home court it's a case of seeing their remaining fixtures out and hoping for a break in the fight against Coronavirus. Their recruitment being severely affected by the worldwide pandemic.
The series then between the two local rivals ends 1 – 1 and dead level on points meaning neither team has local bragging rights and are able to keep the entente cordiale. There will be better days ahead for both teams in the future but at least Newcastle are virtually certain to have a play-off series to come.
There is an added bonus for this Newcastle side as if they do make the end of season games whoever they match up against in those quarter final games will have to travel to the Vertu Motors Arena where the first legs of the play-offs will be played in early May.
Once again for the Eagles there was a starring role for their Captain Alison Gorrell who showed her leadership qualities as she top scored for her side. She also added 12 rebounds, 7 assists and 6 steals to an excellent all-round performance.
Her back court partner Maddy McVicar despite not shooting at her best still managed to notch 19 points after being held scoreless in the first quarter whilst Abby Lowe's double-figure contribution all came in the second half.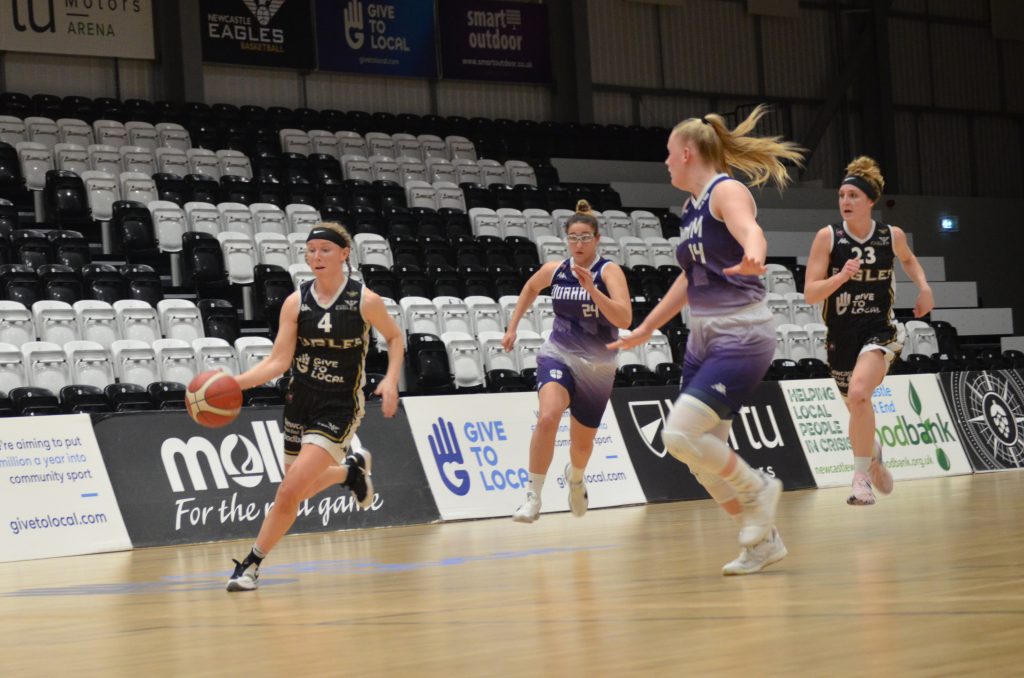 Durham's main hitters in Claire Paxton and Kara Elderkin were subdued for the vast majority of the game with Jazmin Gyulia leading their scorers. Gyulia is a recent addition to the Palatinates squad and one that their coach Lee Davie must have wished he'd picked up earlier.
The visitors were actually out of the traps fastest in the first quarter with Gyulia netting eight from the bench they looked really dangerous and got good shots which they converted to take the opening period 22 – 14.
That's when the Eagles locked in and their backup players in Rachael Bland and Millie Oates giving their coach great minutes particularly defensively. Their efforts along with Deborah Rodriquez-Perez were the key to the home side locking down Durham over the second and third quarters.
The score spread in that middle twenty minutes was 44 – 21 to Newcastle and the platform they used to withstand a late Durham comeback attempt late in the final quarter. It was just too little too little for the local visitors as the Eagles hung on for the crucial victory which virtually confirms their play-off place.
There are various scenarios that need to play in Newcastle's favour to rubber stamp their position but either one more win or an Oaklands Wolves defeat will see the Eagles make a spot that would be well deserved after everything that has been thrown their way this season.