No momentum but no panic as Newcastle Eagles WBBL head into a winner-takes-all playoff quarter-final clash at the Vertu Motors Arena next weekend in determined mood.
Chris Bunten's side might have wrapped up a difficult regular season with double defeat against two talented top six teams.
But a roster that triumphed in the face of adversity to seal an unlikely top eight finish earlier this month has built its reputation on a never-say-die attitude.
And few would bet against Bunten's side having at least one more big win up their sleeves as they prepare for a David versus Goliath clash against one of the WBBL's top two next weekend.
Manchester's third win on the bounce against depleted Newcastle confirmed the free-scoring Mystics as dangerous dark horses heading into the post-season.
But Jeff Jones' side had it far too easy on an afternoon when very little went right for the misfiring women in black.
Slow starts to each of the first two quarters in Nottingham 24 hours earlier had heaped the pressure on the Eagles from the tip.
And a lightning fast opening five minutes from Bunten's side was just what the doctor ordered as the hosts established a 10-2 lead against the hesitant Mystics.
But Manchester boast offensive weapons across the court and Jeff Jones' side overcame that early setback to take control either side of the quarter break.
Destructive runs of 16-4 and 16-3 opened up 34-17 lead with 15 minutes played as the visitors turned up the heat from downtown.
When former Team Northumbria favourite Nicolette Fong Lyew Quee sank an arcing triple, to fire her side 17 points in front, it was the Mystics' eighth three-pointer of the afternoon.
And Newcastle were in danger of letting the game slip before the half as a combination of slack defence and wayward shooting was costing the Eagles dearly.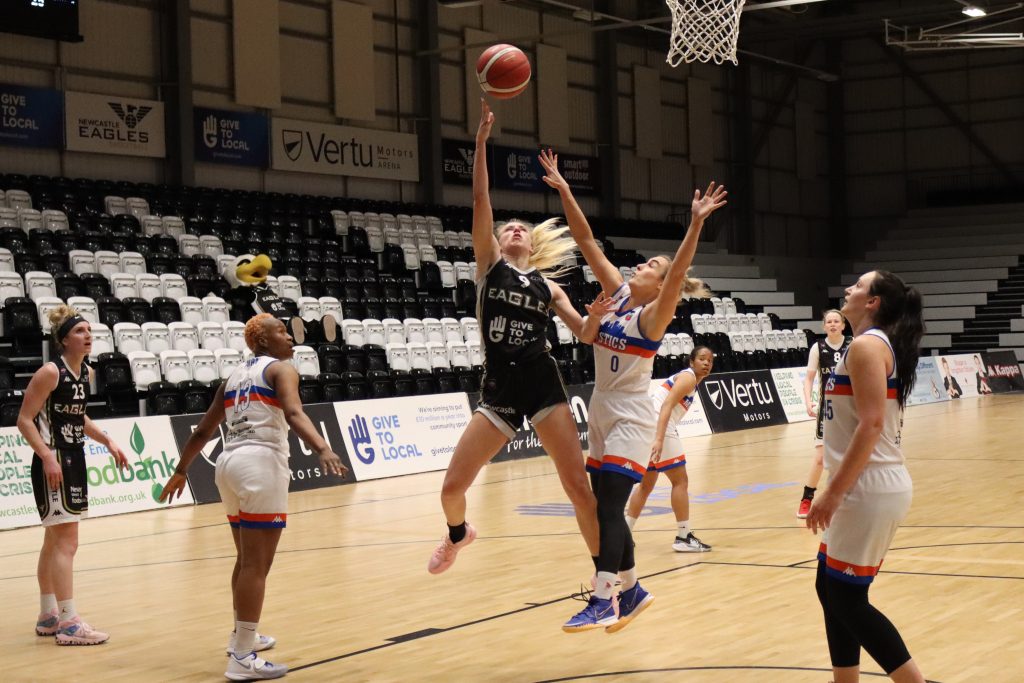 Bunten's side shot a measly 24% from the field in the first 20 minutes — converting just one in five of their two-point efforts.
In fact, it was only multiple trips to the bonus stripe that had kept Manchester within touching distance.
Newcastle headed into the third period shooting 10 from 12 from the free throw line with the foul count 11-6 in the hosts' favour.
But the Eagles needed to produce from open play — and find some way of shutting down the Mystics from the perimeter — if they were to finish the regular season with a win.
Maddy McVicar's third foul of the game three minutes after the restart didn't help Newcastle's cause.
But seconds later an Ali Gorrell three-pointer reduced the deficit to 10 points as the WBBL's leading scorer made her presence felt.
Disappointingly, that big score was no precursor to a much-needed fightback as the Eagles continued to afford their rivals far too much space.
And a brace of Fong Lyew Quee triples — either side of a needless Bunten technical foul — left the hosts with a mountain to climb in the final quarter.
Manchester led 62-37 with 10 minutes to play and Newcastle's hopes of taking any momentum into the playoffs had been dashed.
The absence of breakthrough star Ori Chukwu-Etu had clearly been felt with Bunten effectively running a six-player rotation.
But it was basic errors, rather than a lack of bodies, that meant the Mystics barely had to break into a sweat on their third visit to Tyneside this season.
And the Eagles will have to regroup and refocus if they are to make home advantage count against either Sevenoaks Suns or Leicester Riders in next weekend's playoff quarter-final.