| | | | | | | |
| --- | --- | --- | --- | --- | --- | --- |
| Eagles | 30 | 22 | 21 | 24 | 97 | Win |
| Worcester Wolves | 24 | 22 | 22 | 21 | 89 | Loss |
It takes a brave man to wear a Newcastle Eagles vest with Smith plastered across the back. A name synonymous with the club's golden decade of unprecedented success, it recalls heady days and heroic displays. There are those who believe Charles Smith is the most naturally talented basketball player ever to have donned the Newcastle shirt and a decorated 13-season career – punctuated by 16 pieces of major silverware – proves as much. No wonder namesake Jeremy has it all to do.
But on a night when the Eagles needed him most, Smith Mk II delivered a striking impression of his much-missed predecessor. A virtuoso second half performance kept Worcester's Wolves at bay and only Victor Moses bettered an impressive 27-point haul. Smith is only weeks into his Newcastle career and yet here was the first, compelling evidence that a famous name can live on.
On the back of two damaging defeats, keeping the Wolves from the door could have been considered a tough ask for the Eagles. But this Worcester team, shorn of long-serving playcaller Paul James, is a shadow of the side renowned for hitting Newcastle where it hurts.
Arriving on Tyneside nursing a seven-game losing streak in the league, Ty Shaw's team tipped off at Sport Central rooted to the bottom of the BBL Championship table. In truth, Fabulous Flournoy could hardly have asked for an easier opportunity to bounce back from the previous weekend's losses – on a night when nothing less than a convincing home win would suffice, the wobbling Wolves were welcome visitors.
As the hosts surged into an early double-digit lead, paced by Moses in the paint, it looked for all the world as if normal service had been resumed. Fluid passing and cool finishing was killing a Wolves starting five stripped of confidence but even in full control the Eagles never looked entirely convincing at the defensive end.
And when Worcester's Deshawn Freeman came off the bench to make his long awaited BBL debut it was clear the American rookie had spotted space to exploit.
Nine points in five minutes from the former NCAA Division One forward helped trim the deficit to six and Newcastle suddenly looked anxious. Flournoy's men had no answer to the free-scoring Freeman as Wolves' exciting new recruit proved frustratingly elusive and dangerously accurate.
Only a lack of match fitness prevented the visitors' star man from piling on the misery throughout a tense and keenly fought second quarter. As Worcester closed to within two points the increasingly frantic Eagles bench called a much-needed timeout – cue heated debate and confused expressions as the erratic hosts sought answers to a rapid slump in form.
When Freeman slammed down a mighty one-handed dunk with less than a minute of the half to play – taking his tally to 14 points – the alarm bells were ringing loud and clear. Newcastle were fortunate to take a six-point lead into the half and Flournoy responded by keeping his team in the locker room until seconds before the restart.
Any hopes of an instant response were quashed as Darell Combs sank an arcing three-pointer to fire his side 63-61 ahead. Wolves' first lead of the night was fully deserved and their growing threat increasingly real.
Enter Smith the saviour. Two treys in the closing stages of a fraught third quarter restored the home team's advantage and the slow-burning American suddenly looked the player most likely to spark a late Eagles' surge.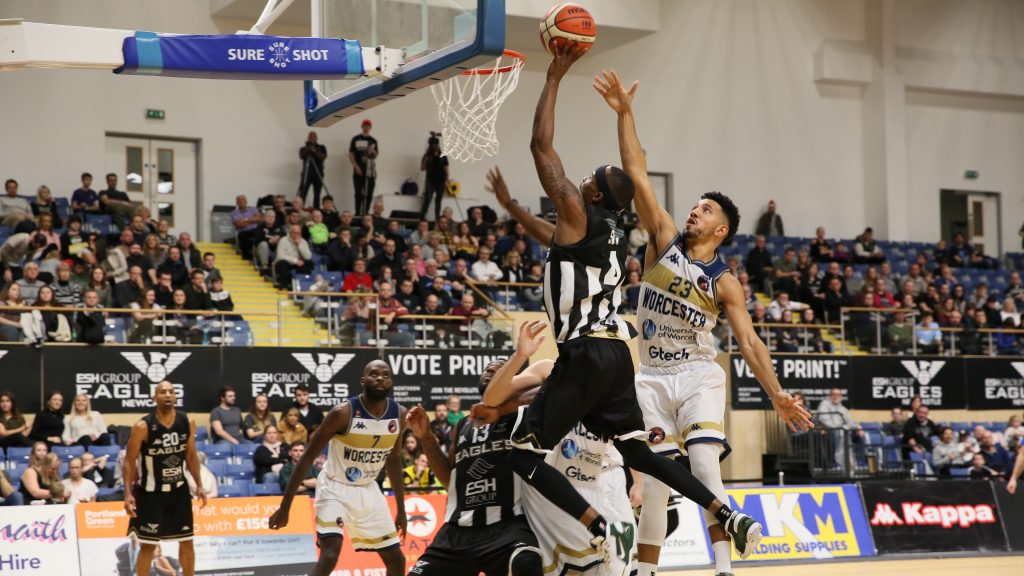 The 6ft 3in guard drove to the basket to score Newcastle's first points of the final period but it was Freeman who provided Flournoy's men with an unlikely boost. With less than seven minutes to play Worcester's main man suddenly lost his cool – a heated clash with officials leading to a shock ejection for the MVP contender.
Shaw was furious and his Wolves weren't finished. Even without their talismanic rookie the visitors refused to be tamed but this was Smith's night.