Going in to the London Lion's den this afternoon it was Esh Group Eagles Newcastle's last chance to make one final effort to land The BBL Championship for this season but they had to win, writes Jeff King. However, long-time league Lions were just too good over the 40 minutes and ended the Eagles hopes.
In essence it was the first half and especially the first quarter that did for Fab Flournoy and his battle-weary troops. Newcastle had come in to this game on the back of a great win at home on Friday against Manchester whilst at the same time Lions had gone down to a rare defeat at Bristol.
It had raised hopes that the Eagles may just have one last run in them that could push them on to glory but it wasn't to be as Lions bounced back from their defeat on Friday night in fine style in front of their own fans at The Copperbox Arena.
Eagles gambled with the fitness of BBL Player of the Month Victor Moses who had hobbled out of Friday's win late in the first quarter. Unfortunately, it was a gamble that didn't come off as this time Moses despite getting off to a good start only lasted just over half the first quarter before once again limping to the bench.
He didn't come back for the visitors who had to rely on Darius Defoe to combat a tough home team inside the paint. Defoe himself was far from fully fit as he had hardly trained all week and despite his best efforts, he was unable to make a difference.
Then, add in the fact that with these two out, Rahmon Fletcher had less targets to hit for his normally incisive passing and it all added up to a tough afternoon for Newcastle after a long journey south that started very early in the morning.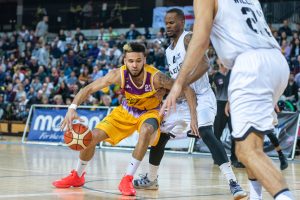 The Eagles were also not helped by a big foul count against them which accounted for both Jamal Williams and Jeremy Smith fouling out without really troubling the score sheet. Defoe too also had foul trouble which meant that Flournoy's team were never in rhythm throughout the 40 minutes.
But it would be churlish to say that the Eagles woes were the main reasons for the defeat. The Champions-elect Lions certainly played very well and took advantage of their opponent's problems heavily winning the rebound battle in particular and giving themselves extra scoring chances.
They took more than their fair share of them in the first half as they got off to a red-hot start with perhaps the Eagles legs still on the bus. The effervescent Ladarius Tabb who had a sensational night for the hosts got his side off and running early and an 11 – 1 start meant the Eagles already had a mountain to climb.
When last season's MVP Justin Robinson joined the Lions party, Newcastle were reeling and London poured it on. They were 31 – 16 in front after the first ten minutes and by half-time with Brandon Peel having a big second period the lead was up to 54 – 32 as the team's headed to the locker rooms.
Eagles battled hard in the second twenty minutes and indeed after Lions initially went 71 – 44 up produced a 13 – 4 run inspired by Kyle Williams to help them actually win the third quarter. But they were still 18-points down going in to the final ten minutes.
Any thoughts Newcastle entertained of an unlikely comeback were extinguished as Lions opened the final quarter with a 6 – 2 start and then eased to victory as Newcastle lost players through fouls and rather worryingly Defoe through injury as he had to be helped from the court.
So, Newcastle's recent revival ended they will lick their wounds and look to re-group with the aim now ensuring a top-four spot to give them home court advantage as they head towards the end of season play-offs and their final chance of silverware in another tough season.