| | | | | | | |
| --- | --- | --- | --- | --- | --- | --- |
| London Lions | 24 | 27 | 24 | 21 | 96 | Win |
| Eagles | 24 | 27 | 18 | 9 | 78 | Loss |
Esh Group Eagles Newcastle were blown away in the closing stages of last night's BBL clash having their wings clipped by the rampant Lions of London. It meant a third league defeat of the season for Fab Flournoy's men who were unable to stop the Lions from continuing to lead The BBL table.
Fab Flournoy had talked in the preview to this game about the importance of getting off to a good start and how difficult it would be to pull back a deficit on the road. Obviously, his players hadn't read his words as they made a slow start but did pull it back in an explosive first quarter.
Lions jumped out early and lead 11 – 3 before Newcastle introduced last weekend's hero Kyle Williams. The Norfolk State graduate picked up where he left off last week with a spectacular 4-point play as he was fouled in the act of netting a triple. He added the extras, Rahmon Fletcher also netted a triple and a 13 – 2 Eagles reply turned the game around.
From there it was hit for hit and nip and tuck with the team's level at 24 – 24 going in to the second period. It was almost like Groundhog Day in that second ten-minute spell. Again, the home side surged ahead taking a 36 – 27 lead before Darius Defoe lead his side back in to the contest.
Defoe know for his powerful inside presence suddenly starting shooting like Steph Curry and hit back-to-back triples to help his side net 12 unanswered points to take Newcastle back in to the lead. It was then back to slugging it out for the rest of the half as both offences exploded leaving the teams level 51 – 51 as they headed to the locker rooms.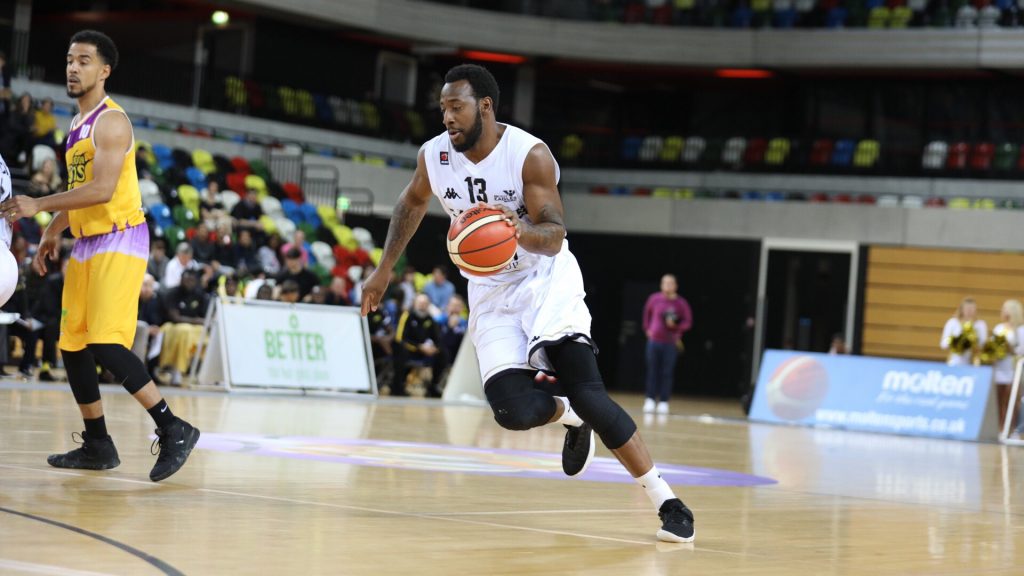 It had been a real shoot-out in the first twenty minutes and looked like being more of the same as the second half began. Both sides were giving neither an inch or a step as they fought to-to toe in the early going. The Eagles continued to thrive from beyond the arc hitting four in a row but it was not enough to open a big gap as Lions only trailed by two.
Once again there was nothing in it although significantly the home side did seem to have curbed the Eagles inside and stopped the threat of Victor Moses who had picked up 14 points in the first half but was not a factor in the second. Kyle Williams edged the visitors in front though at 69 – 68 with a pair of free-throws and then the tide turned spectacularly.
London took some air out of the game, began to attack Newcastle inside and stepped up their own perimeter defence and saw out the third quarter with a seven-point burst to take the momentum and a 75 – 69 lead in to the final period. It was a decisive move which became a winning one as the fourth unfolded.
Suddenly the energy, snap and shooting of the Eagles disappeared in a flash. Lions were relentless and pounded away and that six-point lead stretched to sixteen with another 10 – 0 run. A game that had looked tight and could have gone either way was emphatically claimed by the rampaging Lions.
The Eagles had no answers to the home side's pressure and faded away badly to lose the final ten minutes 21 – 9 and the game overall by a crushing 18-point margin. It will certainly take a great effort from Flournoy and his coaching staff to pull the players around and get them ready for the second part of their Capital challenge at London City Royals tonight.