| | | | | | | |
| --- | --- | --- | --- | --- | --- | --- |
| Eagles | 22 | 13 | 21 | 23 | 79 | Win |
| Sheffield Sharks | 25 | 15 | 14 | 18 | 72 | Loss |
Double doubles from Tajh Green and Larry Austin Jr underpinned a determined display from Seriös Group Newcastle Eagles as top-flight hoops returned to the Vertu Motors Arena.
Following a flawless pre-season all the talk on Tyneside was of the attacking intent and scoring ability at the heart of head coach Marc Steutel's tantalising roster.
But on a night when northern rivals Sheffield Sharks dug deep, the hosts had to rely on fighting spirit and a never-say-die attitude to seal a gritty win.
"You want to come through some adversity and come out on the right side results-wise and that's what we did," said Steutel.
"I was really proud of the defensive effort that allowed us to hold Sheffield to 32 points in the second half.
"I'm proud of the resilience we showed given that it's the first time we've been really tested as a group.
"We made big plays at big times but of course a few moments stick out in my mind where I felt we could have executed better both sides of the ball.
"We have to control what we can control and sometimes we put ourselves in positions that we didn't need to be in.
"If we're a bit smarter with our clock management and execution then that's going to pay dividends down the road.
"But it was really important that we had a game like that. Sharks are a team I have a huge respect for and coach Lyons always produces teams with a clear identity.
"We'll need to improve our performances moving forward but it was a good result."
A lightning start saw the flying hosts surge into an 8-2 lead with Jordan Johnson, Malcolm Delpeche, Austin Jr and Ricky McGill all on the scoresheet.
And suddenly the men in black were producing the entertaining brand of attacking hoops many pundits had predicted.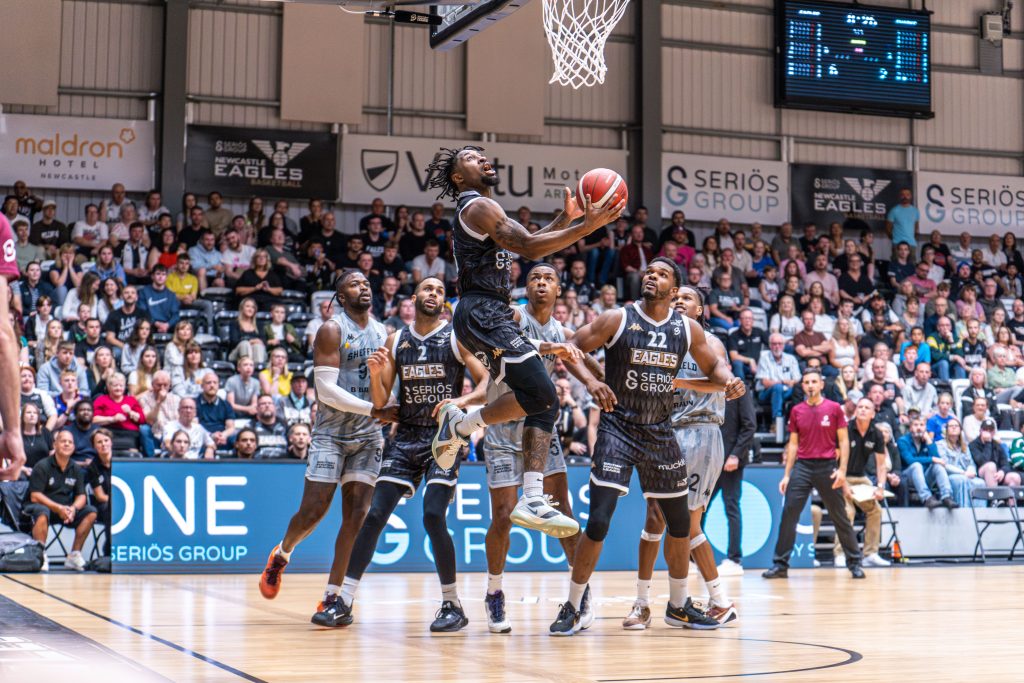 But Sheffield hit back to open up a 24-17 lead and it needed a flying Green dunk and a brace of free throws from the former Manchester man to reduce the deficit to three points heading into the second period.
The visitors' lead came at a cost after the Sharks were forced to concede a staggering nine first quarter fouls in the face of Newcastle's run-and-gun offence.
And that pattern would continue throughout the game as Lyons' men countered the Eagles' lively offence with strongarm tactics designed to stifle.
But nobody expected this northern derby to pass without incident and a fascinating contrast of styles made for a gripping opening night of British Basketball League action in front of the Sky Sports cameras.
Sheffield led 40-35 heading into the half but as the home side switched up their defence the tide began to turn.
Green and Parker Stewart squared up under the basket moments after a second Will Neighbour triple had fired Newcastle 52-51 ahead.
And a tense affair threatened to boil over with the finishing line in sight.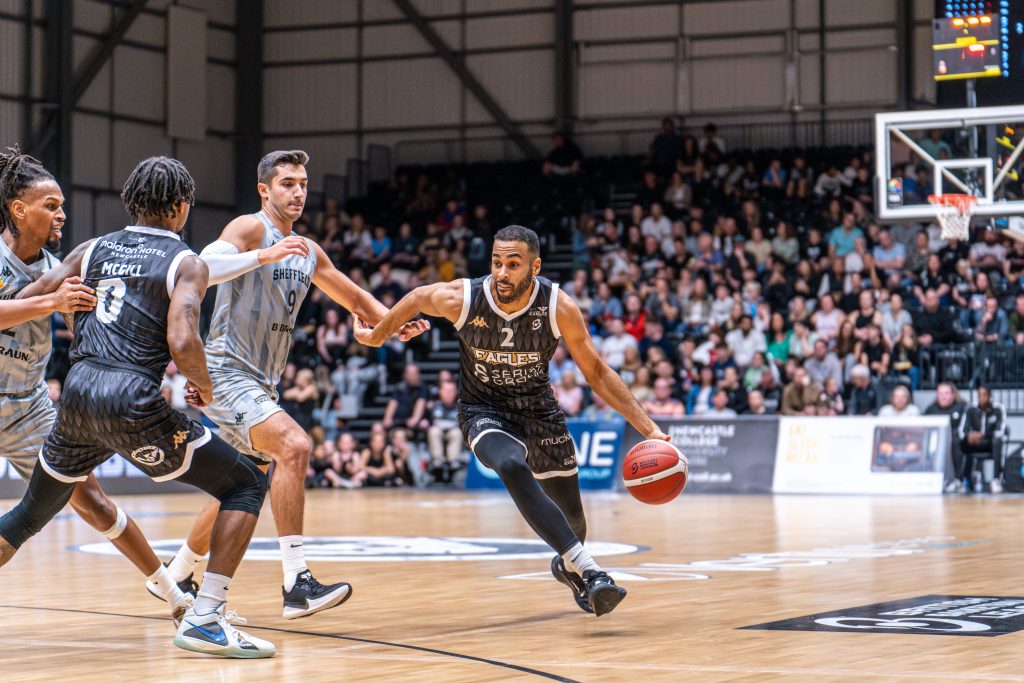 But Newcastle had battled hard to regain their lead and this time Steutel's men were in no mood to let that advantage slip — keeping the Sharks at arms' length throughout the fourth quarter.
A highlights-reel McGill-Green alley-oop with 154 seconds on the clock opened up a 73-67 lead and it was finally game over for gutsy Sheffield.
Green added 11 rebounds to his 17 points and Austin Jr bagged 13 points, 10 boards and two steals on an all-action Championship debut.