It's advantage Newcastle Eagles after last night's BBL Trophy Semi-Final 1st leg in Cheshire. The Eagles returned home with an 88 – 79 nine-point win on the road to give themselves a great opportunity to reach this season's BBL Trophy in Glasgow in March.
However, Newcastle will be wary of a Phoenix side that last came to The Eagles Community Arena in BBL Championship game in December and won by 18 points. So, another 4o minutes on Sunday 1stMarch will decide which team makes the BBL's second showpiece final of the season.
This though was a solid if not spectacular performance by a Newcastle side that looks to be building a bit of momentum following their excellent win at home against London on Friday. Captain and point guard Rahmon Fletcher is in great form and really leading the side in some style at present.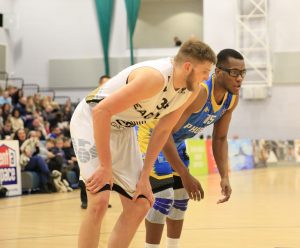 His supporting cast though is no mean one with his "new" back court partner Rodney Glasgow Jnr in double figures alongside Mike Morsell who started the game on fire, C.J. Gettys and Darius Defoe. Defoe and Gettys both adding double figure rebounds to their points haul as well.
Indeed, it was the Eagles big men, Sade Aded Hussein also had 8 rebounds, that pounded the Phoenix inside and out rebounded the home side by 54 – 38 over the stretch of the game with a superb 23 of those rebounds coming at the offensive end.
Eagles also did a great defensive job on Cheshire's point guard Parker Jackson-Cartwright and forward Jalen Hayes in particular to blunt the Phoenix offence. After losing a tight first quarter by two points where no side led by more than four points, the Eagles then won the following three periods.
The second had been the most dangerous one for the visitors who were hit by an 8 – 0 run midway through the ten minutes to give Cheshire a seven-point lead which they held for a couple of minutes.
But Fletcher inspired a 9 – 0 reply and the game closed back up with Phoenix taking the last three points of the half to actually lead by one at 44 – 43 as the teams headed for the locker rooms.
Eagles started the third really well with both Nick Schlitzer and Fletcher hitting from downtown to give them a 10 – 5 advantage and putting them back into a lead they would not relinquish for the rest of the game. Their defence in the third quarter being rock solid to restrict the home side.
Taking a six-point advantage in to the last ten minutes Newcastle consolidated and then increased the gap with Glasgow Jnr and new-boy Will Saunders draining triples. This opened up the biggest lead of the night for the Tynesiders at 71 – 60 and they were now in complete control.
The sides pretty much traded baskets for the remainder of the final stanza with Ben Mockford's two late free-throws denying Newcastle a double-digit lead to bring back home. All in all, though a great night's work for Coach Ian MacLeod's side who will be well pleased with their efforts.
It most certainly is not tie-over with another forty minutes to come. But Newcastle have an excellent chance of finally going back to the Emirates Arena, Glasgow for another BBL Trophy Final after this solid road win.