| | | | | | | |
| --- | --- | --- | --- | --- | --- | --- |
| Cardiff Met Archers | 15 | 20 | 15 | 17 | 67 | Loss |
| Newcastle Eagles Women | 23 | 20 | 14 | 18 | 75 | Win |
The Newcastle Eagles WBBL fate will go to the last game of the season despite a heroic road win at Cardiff last night. Needing to win by ten points to confirm their play-off place Head Coach Noelia Cacherio's came up agonisingly short.
An eight-point victory for Newcastle bizarrely means it was a better result for The Archers than it was for The Eagles who needed to win by ten points to take the head-to-head and leapfrog Cardiff in the playoff race.
Those two points made all the difference as it means Newcastle can't overtake Cardiff. They now have to beat Sevenoaks Suns in the Vertu Motors Arena on Sunday to make the post-season competition.
Even then if Durham, who stay eighth and just ahead of Newcastle after a ten-point win at Oaklands on Saturday, were to do the unthinkable and beat London Lions on Sunday then an Eagles win over The Suns will be irrelevant.
Newcastle actually tip off thirty minutes prior to Durham on Sunday so they have to go flat-out for a win against a Sevenoaks side ranked fifth in the country. It's a tough ask for the Eagles but at least their destiny is more or less in their own hands.
Back in October a short-handed Eagles side minus Maggie Justinak, Courtney Clasen, Abby Lowe and Chloe Gaynor lost to The Suns on the road 82 – 67. They have to hope that their increased deeper roster can turn that result around on Sunday.
If they can and Durham don't win in London then Cacheiro and her players will have earned the right to play in the postseason. That after a campaign that has been blighted by injuries and late arrivals to the roster would be a great achievement.
Whilst Newcastle will be disappointed to get so close to making it in Cardiff and coming up short points wise they have to take the confidence of an excellent win into Sunday's game.
Add determination, togetherness and something to play for in front of their own excellent fans and on their home court and you have the factors that might be decisive. Suns can also not improve on fifth even if they win so, in reality, have nothing to play for.
Yesterday's win in Cardiff once again saw Newcastle make a strong start to the game and they led by as many as 13 points in the first quarter before finally taking an 8-point advantage at 23 – 15 into the second period.
That one was a war of attrition with Cardiff initially closing the gap before the Eagles levelled up the ten-minute battle at 20 – 20 to still lead by eight at the half-time break. All to play for in the second half then.
Once again Newcastle forged ahead and this time went up by fourteen points and seemingly had the job done. But Archers dug deep and can firing back to actually take the period by a single point leaving Newcastle seven points up at 57 – 50.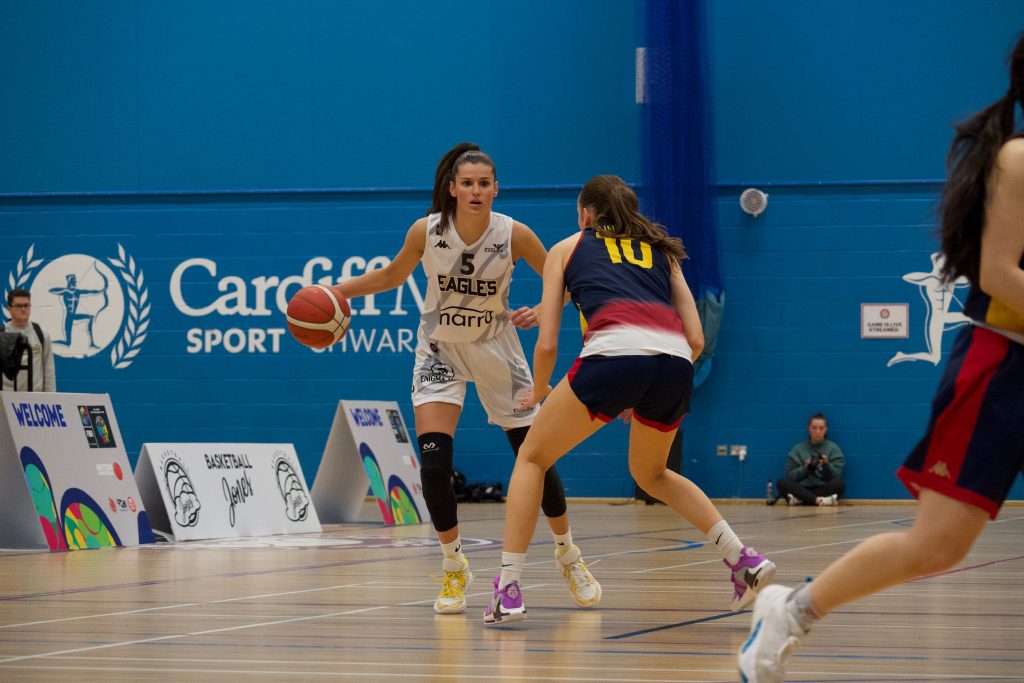 The final quarter was more of the same that had been laid in quarters 2 and 3. Eagles trying to pull away but a dogged and determined Cardiff side just doing enough to hold on to the head-to-head advantage although Newcastle took the win on the night.
For Newcastle the twin terrors of Nette Lewis and Katie Nolan were superb inside the paint all night. Both recorded double-double's with Lewis adding 13 rebounds to her 20 points and Nolan 15 boards to her tally of 14 points.
Great outside shooting by Maggie Justinak who hit four triples from six attempts also helped Newcastle to come away with a win that they thoroughly deserved but ultimately would have been desperately disappointed in. As they say so near yet so far.
Now it's all down to the Sevenoaks game this afternoon which tips off at 5:00pm in the Vertu Motors Arena and the Eagles will be hoping for a big crowd to cheer them on.
| Date | Time | League | Season |
| --- | --- | --- | --- |
| April 23, 2023 | 5:00 pm | Women's Regular Season | 2022-23 |
Tickets for the game can be purchased via the box office.