The Newcastle Eagles went into Friday night's home game in the BBL Cup Group stage against Leicester Riders looking to maintain their 100% record so far this season.
The Eagles had won both their previous games in the so-called "Group of Death" on the road in London and last Sunday in Leicester. That game had been a brilliant advert for British basketball and saw Newcastle come away with a 102 – 96 victory.
Leicester though came North looking for revenge and after another high-quality, intense, and fiercely fought 40 minutes the away side succeeded in their ambition prevailing 88 – 82. It meant the two sides split their clashes and also ended level on points.
Newcastle's star performer on the night was new Eagle Rex Pflueger. The former Notre Dame standout tallied 21 points, 8 rebounds and 5 assists in an all-action effort which unfortunately was in vain. Pflueger was far from downhearted after the game as he explained.
Highlights of Rex Pflueger in action against Leicester Riders:
"I thought the game went well but we had some times when we could have executed better when it came down to the offensive side and then also on the defensive side we could have closed out some possessions rebounding a little bit better."
"All in all, though I'm super happy with our first three games. Despite not having a pre-season our team is flowing well together already."
One defeat and two wins is not a bad start at all for Pflueger and his team-mates and they hardly have time to draw breath before facing Sheffield Sharks on Tuesday in their next group game. That one is also at the Eagles Community Arena.
"We're already looking forward to playing again on Tuesday. We have a nice schedule coming up, a tough one with Sheffield on Tuesday and then London next Friday but we're just looking at it one game at a time. We'll look at some film of tonight's game and go again in practice on Monday."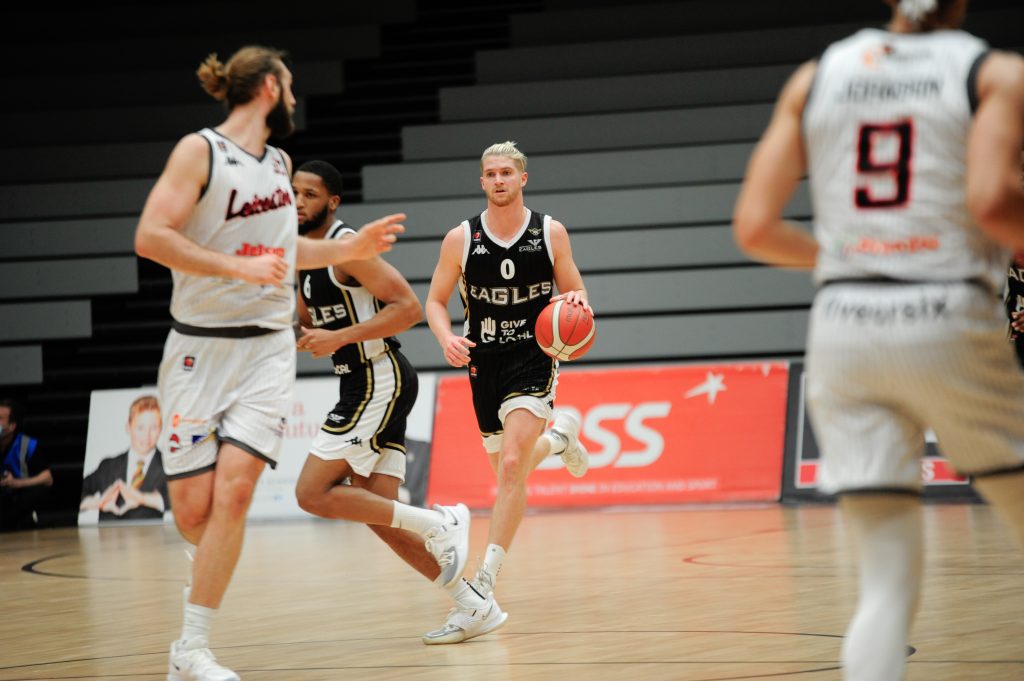 Only three games into the fledgling season but Pflueger is impressed by what he's seen of the league so far and how his own team have come together a unit.
"I think the BBL is a very underrated league. The teams we've played have a lot of great players and it just seems like a really competitive league. I think our team is balancing out great and we have a good mix."
"The veterans are taking us under their wings showing us the ropes and the young guys are receptive and learning. There's no egos on the team and everyone's very friendly with each other and it's great when a team has that rapport on and off the court."
Pflueger's performances in the first two games were very solid as he contributed well to both wins. On Friday he came into his own but again was quick to acknowledge his team-mates.
"I made some shots and was starting to find my groove which was nice but we have a lot of great players on our team. Each and every game it's going to be someone's turn to step up. That makes us very dangerous having so many weapons."
"For me personally I want to be aggressive on the offensive side and be one of the more reliable guys on the defensive end someone that can be put on an opposition player if the get hot. Overall though I just want to do what I can to help us win."
The Eagles did beat Sheffield in their only pre-season encounter but with this being an official game Pflueger is not expecting a similar matchup.
"I think it's going to be totally different. Each team is starting to come into their own and realising that this isn't the pre-season and it's more competitive. Players are getting hotter which is great not just for us but for the fans watching."
Tuesday's game at The ECA is a 7:00pm tip-off and is sure to be another tough, close exciting clash between the two Northern rivals. Virtual tickets to access the live stream are available now.