Newcastle Eagles missed a great opportunity to take complete control of The BBL Cup North Group on Friday night at The Eagles Community Arena after falling to an 83 – 80 loss to Sheffield Sharks.
The Eagles simply threw away a game that was theirs to lose and lose it they did despite being up three times in the game by fifteen points. That included a 52 – 37 half-time lead which was achieved with a 14 – 2 run to the half ending buzzer.
Indeed, after Sheffield opened the games scoring inside the first minute, Newcastle hit back with a Nick Schlitzer triple and held the lead from that point up until 30 seconds from the end of regulation when Sharks levelled the game to take it overtime.
The home side actually led by 12-points with 4:06 to play in regulation but not only did not score again in the final quarter, they did not actually trouble the score board until 1:43 to go in overtime by which time Sheffield were in control of the game.
Eagles only other score in the extra five-minute period came from Big John Mitchell and that was right on the game end buzzer making the final score 83 – 80 to the visitors taking them top of the group with a 4 – 1 record and relegating Newcastle's record to 4 – 2.
Mitchell had been one of the few bright spots in the Eagles performance netting 17 points and pulling down 12 rebounds for an impressive double-double but he was far from pleased at the final buzzer.
"My performance and stats are irrelevant because we didn't win. That's all that it's about for me, helping my team to win the game. When we don't win, I don't care about what I've done. It was a very tough loss to take tonight."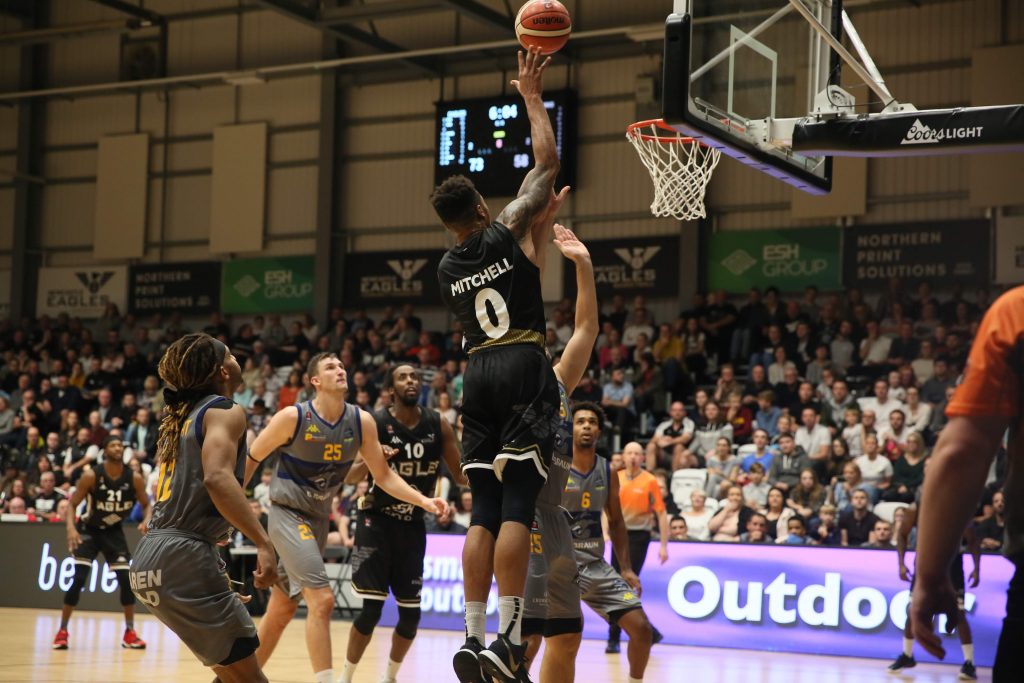 Mitchell singled out the second half plus overtime period where the Eagles only scored 28-points in those final twenty-five minutes as they fell away dramatically.
"Energy, energy. Defence transition into offence we were playing good basketball. But we switched off. You can't switch energy you've got to keep the same energy, period. The idea tonight was to get as many possessions as we good and speed them up."
"We knew they couldn't keep up with us if we played that way. They're a really good team and we didn't do a good enough job of really pushing the ball and they took advantage. We let one go tonight that we should have got."
The two sides will clash again next Friday night down in Sheffield for the return fixture and Mitchell is already looking forward to that game and putting last Friday's game behind him.
"It brightens me up that we have a chance to reverse this result straight away next week. We need to study what went wrong in this game, practice hard and prepare properly so we can turn the situation around to get ourselves back on track."
The Eagles are still comfortably placed to qualify out of the group for a quarter-final place. But they really want to finish in the top two of their six-team group to secure a home tie in that quarter-final draw. A win at Sheffield this coming Friday can give them back that opportunity.
Tickets to sit in our Eagles' fans section at Ponds Forge are on sale now: