Esh Group Eagles Newcastle return to Northumbria University Sport Central looking to continue their 100% BBL Championship record and get back to winning ways after last week's surprise Cup defeat at the hands of Cheshire Phoenix, writes Jeff King.
That defeat sent reverberation's around The BBL but nowhere was the impact harder felt than in The Eagles own locker room and inner sanctum as the first chance of silverware slipped through their talons.
One of the biggest factors, with the greatest respect in the world to the rest of the team, was the injury to on-court general Saah Nimley which meant the diminutive point guard was unable to assist his team last Friday night.
The good news for all concerned with The Eagles is that Nimley has trained all week and will be back to help shape and guide his side as they look to continue their Championship challenge. The influential guard reflected on last week and looked forward to tonight.
NEXT BBL HOME GAME
"It was tough to watch and not to be able to be out there and help out my team-mates."
"I'm fine now, I've been back in training all week and it feels alright so I'm ready to go for sure tonight."
Nimley had a perfect view from the bench as last week's game unfolded right in front of him.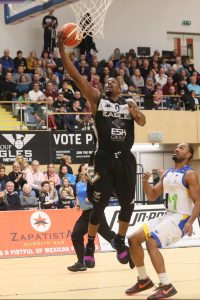 "It was tough to watch and not to be able to be out there and help out my team-mates. I still thought that we were in a position to win the game and in the end, we were only a couple of plays away from being in the semi-finals."
"You can never get too comfortable especially with the way our past couple of games had been, but I did think we'd play that one out. But when a couple of unfortunate things happened you kind of got a sense that something bad was maybe about to happen."
"It's gone now though, and we have to concentrate on Surrey tonight and, that preparation started as soon as we recovered from last Friday."
Newcastle play Surrey Scorchers tonight and then have the same opposition in The BBL Trophy next month also at home but Nimley is only focused on one thing.
"It's important that we get the win tonight as it is to get a win in every game. It's another big one because of last week and we know it's going to be a tough test. It'll be good to get a look at them in the league first."
"But really, we must think about tonight, not about The Trophy or the next game or next week, it's about taking it one game at a time and taking care of business. The guys came back to training this week still a little disappointed about Friday."
"It's basketball. I want to say it was one game but it was an important game but what can you do. All we could do is get back to work and get ready to continue on with winning in the league and that's what we're going to do."
Although Nimley is right to focus on tonight's game he's also aware that his side have to go to Cheshire on Sunday in another Championship game and this time he'll be playing as Newcastle look to right a wrong.
"It's another big game but for me personally I'm not looking too far in to it. I'm just going to treat it as any other game. I'll come out and play my hardest and see what happens, but we have to take care of Surrey first."