| Date | Time | League | Season |
| --- | --- | --- | --- |
| February 17, 2021 | 6:00 pm | Men's Championship | 2020-21 |
Newcastle Eagles face their third game in six days when they travel to arch-Championship rivals Leicester Riders tonight.
The Riders are in a rich vein of form and currently sit at the top of the BBL table with a 10 – 1 record.
But the Eagles, who bounced back from the disappointment of Friday night's home loss against Sheffield with a morale boosting 74 – 66 win at Bristol on Sunday, have already beaten Leicester on their home court twice this season both times in The BBL Cup.
Head Coach Ian MacLeod was especially pleased with the performance and the way his side returned to winning ways at Bristol as he previewed tomorrow's tough game at Leicester. Especially as dynamic forward Justin Gordon missed the Bristol game through injury.
"I was very happy to get back to winning ways at Bristol but more pleased with the manner in which we did it. We executed our game plan very well and holding any team to 66 points is very good but it is the details in the way that we did it which was important."
"We felt that they couldn't score enough two pointers to beat us so our mission was to limit their three-point shooting and they only made three from nineteen which was great for us. Plus, we kept them off the offensive glass. Restricting them to six offensive rebounds from a big physical team like they are was very good."
"I think we showed a lot of fight. It wasn't all perfect and it didn't need to be. We needed to have a game where we had to bounce back and show resilience, communicate, and solve problems which we did. That was important for us because that was lacking in the Sheffield loss."
"There were contributions throughout the team. We had a little bit of foul trouble but we managed it well and the guys attitude was very good in those moments and they really pulled together. That's the type of grit we had shown and need to continue to show for the rest of the season."
There is still a doubt over Gordon's involvement in tonight's game with a game-day decision being made to see if he's fit enough to return to the roster and add his contribution. Whatever the outcome of that MacLeod knows it's going to be another difficult game.
"It's a big game but it seems like every game is a big game right now. Our schedule is pretty much jam-packed for the rest of the season. The games are coming thick and fast but that's what we want because that's why we do this. We love to play not love to train and practice."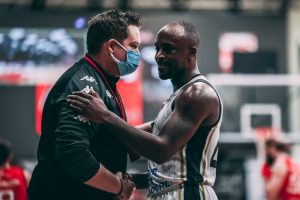 "It's always a tough game against Leicester and it'll be in their minds that we've already won twice on their court. We'll get their best punch and it's going to be a hard-fought and close game."
"Keys to the game are (Geno) Crandell who has proved himself to be an elite guard in this league and how we handle (Darien) Nelson-Henry is going to be just as important. He gives them another dimension and an easy outlet to throw it down and inside too."
"Then we have to keep their shooters quiet. We want to reduce the easy looks they get which is something our defence has been good at this year. We know they're going to pack the 'paint' and slow the game down."
"They're more of a spoiler defence than a disruptive one. Whilst they don't concede a lot of points they're also last in the league in steals. They very much sit back and challenge you to pick them apart."
"Our spacing is probably the key for us on offence. Having good spacing is important as we can them have multi-dimensional offences. It's going to be tough but we're looking forward to the challenge."
There's certainly little respite or time to reflect for Newcastle whatever happens tonight as Sheffield Sharks splash back into The Eagles Community Arena this Friday night in front of the Sky Sports cameras.