The coach who brought Fab Flournoy to Newcastle Eagles can see the 44-year-old New Yorker bothering the BBL for years to come.
And Tony Garbelotto – who returns to Tyneside this weekend with new side Glasgow Rocks – insists it's a case of 'if it ain't broke, don't fix it'.
Flournoy signed for Newcastle in 2001 and succeeded Garbelotto as head coach a year later.
"It's 15 years since I left the Eagles and did I expect to see Fab still playing in his mid 40s… yes and no," said Garbelotto.
"The only way I could imagine the situation at Newcastle changing is if the club went on a three-year winless streak.
"At that point Fab and Paul Blake might just think about shaking things up.
"But no other team – apart from Leicester – has come close to putting any pressure on the Eagles for the last decade so why change?
"I had to laugh when I heard last season described as a disaster for Newcastle. They won the BBL Cup, finished runners-up in the league and made the Playoff final.
"For any other club that would have been the best year in franchise history!
"As long as they're still winning then I don't see Fab walking away anytime soon."
"I'd say we're two weeks behind Newcastle"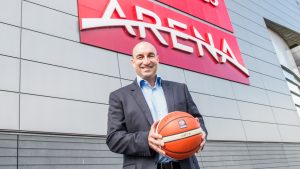 Garbelotto ended a three-year stint in Vietnam to rekindle his love affair with British basketball earlier this summer.
And after a change of ownership at the Rocks it's all systems go for the popular playcaller as he bids to put the Glasgow club back among the BBL's big boys.
Saturday's friendly against Newcastle will be a baptism of fire for a franchise in transition – and could mark an early return for former Eagle Joe Hart.
"I'd say we're two weeks behind Newcastle in terms of preparation and match fitness but this is just the kind of game we need," added Garbelotto.
"I've no idea how we'll shape up against what looks like a very talented Eagles team. All I can say that we'll be a very different side when we pitch up at Sport Central in the BBL next month.
"We don't have the budget or the overseas talent that a club like Newcastle has but off the court we're in fantastic shape. Our facilities and support staff are second to none and that's where we can steal a march on the likes of the Eagles and Leicester.
"Right now we're only just coming together. A few of the guys only joined up with the squad at the end of last week but I'm happy with what I've got."
Newcastle tip off against Glasgow at 3pm on Saturday at the Benfield Centre for Sport. The same venue hosts Sunday's pre-season friendly between the Eagles and Division One champions Team Northumbria (1.30pm tip-off).
Tickets for both matches are on sale now: