Zarko Jukic is ready to rebuild his career on Tyneside after the Danish international admitted Newcastle is the place to ease his post-Spain pain.
The talented forward signed for the Eagles following a frustrating campaign with Ourense.
And Jukic has already proved himself a key addition to the Eagles' roster ahead of Friday's top of the table clash with London Lions.
The 24-year-old averaged just two points and two boards per game across a 36-match season in Spain's LEB Gold.
And he admitted: "I didn't have the best of seasons last year. It was a great league and I played for a very good coach. Personally, I just didn't play well.
"I felt I needed a fresh challenge and a change of scene to get my career back on track.
"So far everything is going to plan.
"I feel I can play a little better than the level I'm at now but the season has only just started.
"Newcastle feels like the right place to start again."
Jukic played a combined 43 minutes and added 11 rebounds to his 17 points as Newcastle defeated Glasgow Rocks and Manchester Giants to go top of the BBL Championship table.
And if the summer signing continues to fly under the radar – team-mates Saah Nimley and Jaysean Paige stealing the early-season headlines as they pour in the points – his attitude has already impressed the Eagles' coaching staff.
"I think we have a very talented team."
A cool character at both ends of the court, Jukic doesn't shirk the dirty work required to complement his more flamboyant colleagues.
And he added: "I think we have a very talented team. The thing with us is finding consistency.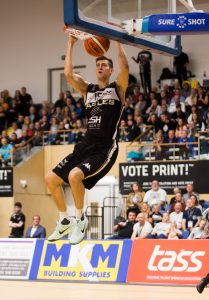 "Offensively is where it will really make a difference at this stage but we do need to focus on defence.
"If we can find the right balance then we'll be in a position to fight for top spot.
"Defence-wise it really is about staying focused. We can't switch off.
"We have the talent and so all we need to do is make sure that we stay mentally tough when we're put under pressure."
Newcastle have soared beyond 100 points in all three of their BBL fixtures to date with Nimley and Paige punishing the opposition at will.
But Jukic knows there will come a day when defence will determine the franchise's success or failure.
"It depends on the personnel in terms of how quickly you can become an effective defensive unit," he added. "But we're working on it.
"We come into practice every day determined to do better at defence.
"It will take a little bit of time to adjust. We have seven new players and we are learning all the time."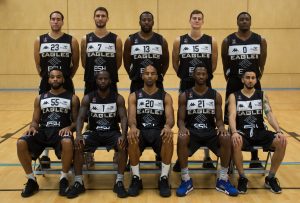 Newcastle and London are neck and neck at the top of the BBL table with three convincing wins apiece – making Friday night's Sport Central showdown a mouthwatering prospect.
The Lions edged the Eagles in the all-action All-Stars event at the O2 Arena last month to earn the early-season bragging rights.
But few would bet against the men in black exacting revenge on their homecourt after racking up 369 points in 120 minutes of top flight action this season.
Tickets for Friday's match (7.30pm tip) are still available:
SaveSave