Newcastle Eagles WBBL have bagged one of the biggest names in British basketball after adding veteran international Steph Gandy to their ranks.
The 36-year-old enjoyed two stellar spells with Sheffield Hatters and moves to the North East following seven straight seasons with the South Yorkshire club.
But Eagles playcaller Chris Bunten has offered Gandy a fresh challenge in the autumn of her career and believes the club now has the quality to challenge for silverware.
"Since coaching in the WBBL I have always admired Steph's skillset but, more importantly, I love her passion for the game," he said.
"She is someone who's a born winner and a player who does whatever it takes to make her team successful.
"Whether it takes scoring, rebounding or getting her team-mates involved – she does it all."
Bunten has made no secret of his admiration for Gandy and enjoyed many battles with the powerful forward during his time in charge of Team Northumbria.
Now heading up the newly-formed Newcastle Eagles WBBL side, the England assistant coach is convinced his latest signing can be the missing piece in a fast-evolving roster.
"Over the past few years I would drop Steph a message on the back of her fantastic performances whether it was again Team Northumbria or other teams," he added.
"We got talking this summer and I invited her for a training session on Tyneside.
"She was an instant hit with all of the Eagles players and I was super impressed with what I saw.
"In our three pre-season games so far Steph has shown her international class and made the right decision every time.
"I knew she could score and play amazing defence on multiple positions but I was surprised at how well she reads the floor and at the quality of her passing game.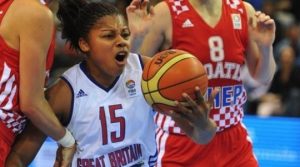 "It shouldn't have been a surprise – Steph is a Great Britain veteran and has a great all-round game."
Newcastle Eagles WBBL enjoyed back-to-back friendly wins against Edinburgh University and Newcastle University last weekend as the club prepares for this month's big championship tip-off at Caledonia Pride.
And Bunten has already seen enough of Gandy and Kara Bonenberger in tandem to suggest the pair can be a powerful threat inside.
"What I really love is how Steph's already linked up so well with Kara," she added. "They have a great synergy and look as if they've played together for years!
"With her addition to the Eagles roster I know we'll be a force to be reckoned with. I can see us pushing for a top spot alongside perennial contenders including Leicester, Sheffield and reigning champions Sevenoaks."
The Newcastle Eagles WBBL team have their first game of the 2018-19 season this Sunday afternoon away at Caledonia Pride with a 1pm tip-off. You can follow the action on FIBA LiveStats and we will have score updates on our social media channels.