Fabulous Flournoy has admitted the decision to join the Toronto Raptors is the most difficult career choice he has ever faced.
But the Newcastle Eagles' playcaller heads to the NBA with the blessing of close friend and managing director Paul Blake.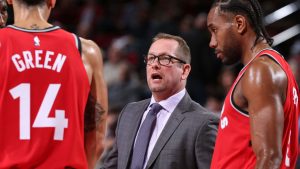 Flournoy has accepted an assistant coach's role with Nick Nurse's Championship winning Raptors – linking up with the coach who first brought him to the BBL in 1996.
And now Blake must start the search for Newcastle's new head coach with the club seeking to fill the vacancy for the first time since 2002.
"I knew this day would come at some point," said Flournoy, who has picked up 24 pieces of silverware in 17 years as Eagles' player-coach.
"I loved leading the team out at the new Eagles Community Arena earlier this year – it was such a proud moment for me and Paul.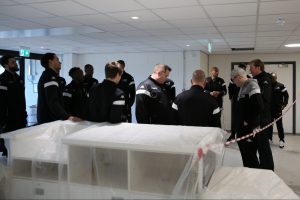 "And in that respect I felt we were only just getting started.
"But this unbelievable opportunity has come out of the blue and when I talked to Paul about the chance to move to the NBA he told me to grab it with both hands.
"I won't deny I shed a few tears and I still don't think it's sunk in. I have spent the last 18 years living and breathing Newcastle Eagles and it's been an absolute joy.
"I have worked with so many unbelievably committed and talented players, staff, volunteers and sponsors and been fortunate enough to be adopted by the people of the North East as one of their own.
"It's been my home for so long now and always will be. But nothing lasts forever and this is the right move at the right time."
Flournoy joined Newcastle from Sheffield Sharks in 2001 and replaced head coach Tony Garbelotto 12 months later.
Within two years he had led the Eagles to their first piece of silverware as the club defeated Nurse's Brighton Bears 85-60 in the 2005 BBL Trophy final.
Newcastle went on to lift the playoff title in the same season and begin an era of BBL dominance that is unlikely to be repeated.
"When I approached Fab to become player-coach neither of us really knew whether it would work," said Blake.
"But I guess it turned out ok! Fab has gone on to establish himself as one of the finest coaches of his generation and continued to play at the same time.
"What he has achieved for our organisation on and off the court is quite remarkable and I am indebted to the commitment and passion he has shown for 17 years.
"I always suspected this day would come because there are plenty of people in basketball working all over the world who understand just what an asset Fab can be.
"I'm sure he's turned down good offers in the past because he felt that he had unfinished business with Newcastle and he has always wanted to achieve more here.
"But he knows the club is in a strong position right now and we have achieved our aim of delivering a home the Eagles can call their own.
"Everyone at Newcastle wishes him all of the luck in the world and we can only thank him for the incredible job he has done over so many years.
"I am sure he will make a success of his role under Nick – the Raptors have signed a winner in every sense of the word.
"As far as a replacement is concerned we will take stock and consider our options. The last time we were in this position was in 2002 so it's not something we will rush into."
Assistant coach Ian Macleod has taken charge of Newcastle's new-look team for the club's pre-season friendlies and the highly rated playcaller is just one of the names in the frame to succeed Flournoy.