On Saturday night in Manchester the club, our foundation, its trustees and our volunteers had reason to celebrate as Basketball England revealed the winners of their 2018 national Volunteer Awards.
The ceremony was the cornerstone of the Basketball England National Game Conference which took place in the day, covering topics from FIBA rule changes to coaching excellence and more with many of our Eagles Community Foundation coaches and staff in attendance.
In total the club, our foundation, its staff, trustees and volunteers were nominated for six awards, the most of any other region.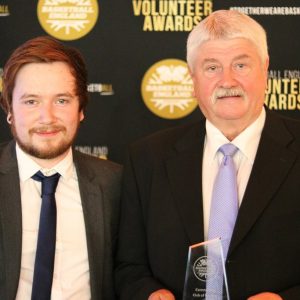 Basketball England's Safeguarding & Compliance Manager Ross McGowan presented the coveted title of Community Club of the Year to the Eagles for all the work that the whole organisation has accomplished in basketball and beyond. The award recognised the club and foundation's broad reach across Tyne and Wear, and Northumberland, both on court in grass roots all the way up to the top tier of the sport and the impact it has to the wider community.
With a big round of applause from the audience, well known Eagles supporter and volunteer for many years, Luke Orwin took the Statistician of the Year award for his tireless dedication to the game.
Finally, huge congratulations go to our Eagles Community foundation trustee Alan Younger who was one of the recipients of the ten special Services to Basketball Awards for his work at both regional and national levels, especially here the North East.