The British Basketball League has today launched its Ambassadors Programme, which will see players and staff across the league promote the importance of a healthy, active lifestyle to thousands of school children in local communities across the UK.
The project has been launched as part of the BBL's 'Inspires' initiative, where key members of each of the league's 10 clubs will visit schools in their local community to tell their stories about their pathway to becoming a professional athlete.
The Ambassadors Programme will target 1,000 schools and inspire 150,000 young people across the UK to get involved with sport in their local communities.
There will be an emphasis on how participating in sports like basketball benefits youngsters' physical health but also the positive influence it has on their mental health.
The sessions will also highlight how sport plays a role in tackling various societal issues and how the next generation hold the power to be trailblazers for social change.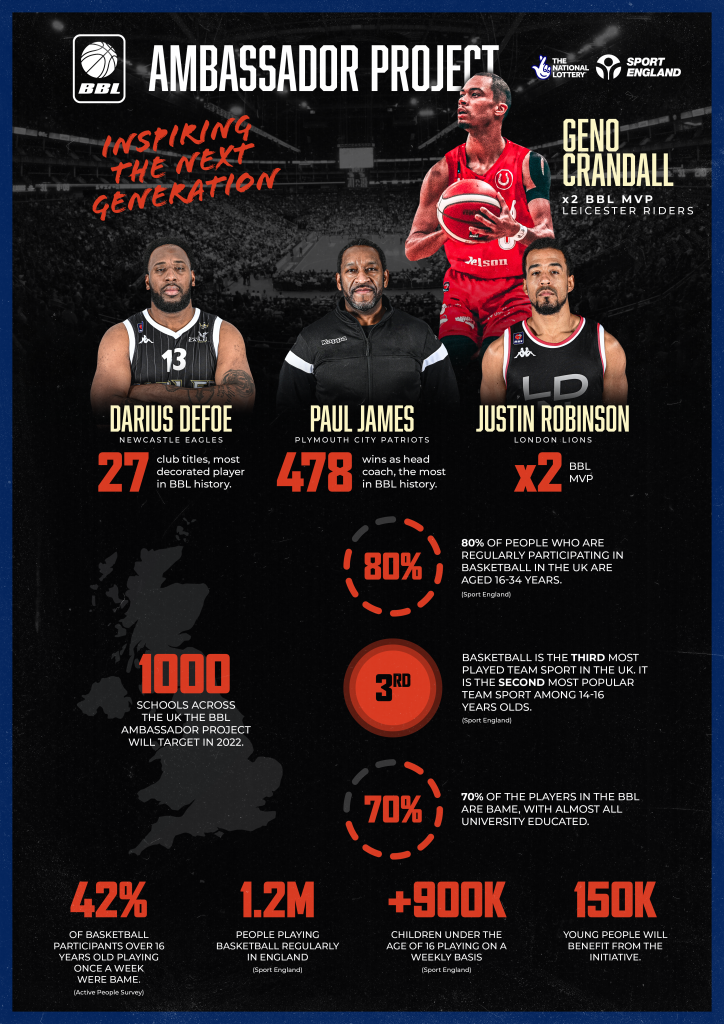 Some of the key topics covered in the sessions will include; their personal career journeys, the importance of sport and education as well as the benefits of being physically active.
Maintaining good mental health will also be emphasised and players will discuss the importance of being respectful and understanding of societal differences. Above all, the club ambassadors will look to inspire the next generation of young people within their respective communities. 
Players from across both the BBL and WBBL (Women's British Basketball League) will lead the sessions when they launch across their local communities later this month.
Students will get the opportunity to ask the players questions and learn more about what it takes to be a professional athlete both on and off the court.
The campaign, which has been funded and backed by Sport England in partnership with the Basketball Foundation, will see the BBL and WBBL clubs' visit over 1000 schools and deliver school assembly sessions to 150,000 students nationwide.
Basketball remains the third most played team sport across the country, with 1.2 million people picking up a basketball each week, 80% of which are aged 16-34.
Basketball continues to be at the heart of local communities too with 900,000 under 16s participating each week, making the sport the second most popular with 14–16-year-olds in the UK. 
Following today's launch, the BBLs clubs will head into local schools and start delivering the inspiring and thought-provoking sessions. To keep up to date and to find out more visit the BBL Inspires website.