Once again our Eagles lead the role-call of the top players over the last seven days in the British Basketball League.
This afternoon the BBL announced their picks for the 4th All-Star line-up with an All-Eagles backcourt taking centre stage.
Here's their full list featuring Saah Nimley and your MVP from Friday night's game against Worcester Wolves, Jaysean Paige: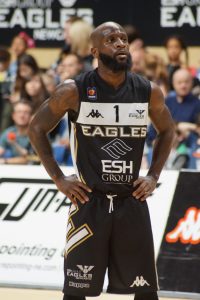 Saah Nimley (Esh Group Eagles Newcastle)
The playmaker becomes the first player to reach three appearances after he was instrumental in helping the Eagles to extend their uneaten start to the campaign. Nimley took down Worcester Wolves with 24 points, while also serving up 7 assists and spilling the ball just once in a high-octane contest.
Jaysean Paige (Esh Group Eagles Newcastle)
It's a second berth of the season for Paige in our fantastic five and he also produced the best individual performance valuation of the season so far in the win against Wolves. He had the fans at Sports Central standing in appreciation after a majestic 37 points, including 4 of 5 from downtown, as well as 6 rebounds, 4 assists and 2 blocks.
Jalen Billups (Glasgow Rocks)
It's a first ever All-Star Five slot for the powerful Billups, who took Rocks to their most eye-catching result of the season so far. He was the difference-maker as Glasgow won a thriller at Leicester, with the forward throwing down a huge dunk and also corralling 27 points. His return was particularly impressive as he shot almost 70%.
Tony Wroblicky (DBL Sharks Sheffield)
The Sharks are on a roll and looking like a dangerous outfit, with Wroblicky one of the form players in the BBL right now. He registers his second appearance of the campaign after dominating in the home win against Flyers. He proved too strong for Bristol with a fine double-double of 19 points and 12 rebounds.
CJ Gettys (Cheshire Phoenix)
They love a drama at Cheshire Oaks Arena and another was served up as the hosts overturned a 20-point plus deficit against London Lions. At the heart of a pulsating victory, Gettys collects his first ever spot in our fabulous five after contributing a double-double of 20 points and 12 boards – going 9 of 13 from the floor.
Off the bench – Alasdair Fraser (Glasgow Rocks), Malcolm Riley (Cheshire Phoenix), Kieron Achara (Glasgow Rocks), Trayvon Palmer (Worcester Wolves), Tony Hicks (Surrey Scorchers), Dallin Bachynski (Worcester Wolves), Brandon Boggs (Bristol Flyers)