It's 25 years since top-flight basketball arrived in Newcastle and in that time we've enjoyed some incredible highlights alongside our loyal supporters.
We've become used to winning the game's biggest prizes in front of sold-out crowds and set the standard for basketball in the community.
During that period we've always done our level best to put our fans first – involving them in everything we do and working together to sustain success on and off the court.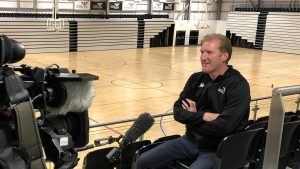 So I want to let all of our supporters know that, along with our fellow BBL and WBBL teams, the club is awaiting a Government response to a request for support to start the season.
Furthermore, we are still not clear on when we can have our amazing crowd back in the Eagles Community Arena. Clearly we are hoping this will be sooner rather than later.
We've come so far and made so much progress that I'm asking each and every one of our supporters to stick with us during the next few weeks and months.
Talks are taking place right now and we're sure that a safe and effective solution can be achieved which allows the BBL and WBBL to resume in the face of an unforgiving pandemic.
As soon as we have a response from Government and our strategy for the season is clear, we will be sharing our plans with our fans and sponsors. We are incredibly grateful for their loyalty, overwhelming support and understanding during this toughest of times.
We won't let this increasingly difficult situation defeat us. As a club and a community we pride ourselves on a winning mentality and that will never change.
Thank you again for your continued support.
Paul Blake
Managing Director
Newcastle Eagles