Our Newcastle Eagles Academy star Tosan Evbuomwan has been selected for the final 12 to play in Division A of the FIBA Under-18 European Championship in Latvia this week.
Tosan will make his FIBA competition debut in Group D this Saturday 28 July against Montenegro, followed by games versus Serbia and Lithuania, before Brtain's round of 16 game on Wednesday 1 August.
Eagles assistant coach Ian Macleod holds the same role with the British Under-18s team and flew to the city of Riga with Tosan and the rest of the GB squad this week after a brief return to the UK checking-in with the club as 2018-19 BBL season preparations continue.
"It is a great achievement for Tosan to make it this far, and to get the chance to represent Great Britain in a full international", Coach Macleod told us.
"I know his family are extremely proud, as is everyone at the Eagles. He has a lot more hard work ahead and I know he is not content to simply be here, but wants to make an impact. I am very proud of him."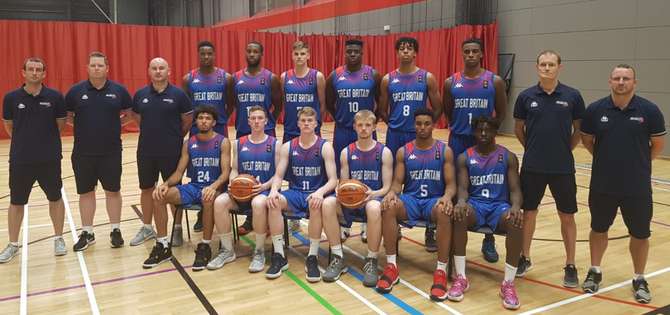 On making the final roster announcement GB U18 head coach Alan Keane said "We have had a uniquely challenging and at times, physical preparation for this tournament which has definitely increased our cohesion as a group which was good to start with."
"The mood among the 12 is excellent going into the tournament and I look forward to seeing how these guys develop when we get to Latvia."
Every GB game at the FIBA European Championships will be streamed live via British Basketball's Facebook Page.
Good luck to Tosan and Ian from everyone at the Eagles!