| | | | | | | |
| --- | --- | --- | --- | --- | --- | --- |
| Leicester Riders | 30 | 27 | 21 | 18 | 96 | Loss |
| Eagles | 29 | 28 | 20 | 25 | 102 | Win |
What a sensational start to the season for Head Coach Ian Macleod and his Newcastle Eagles as they moved to 2 – 0 in their BBL Group after a superb road win down in Leicester.
In a battle of two of the powerhouses of British basketball it was Newcastle that came up big down the stretch to take a crucial win by six points in a high-quality, high intensity game of basketball. It was a game that ebbed and flowed throughout and was in doubt right to the wire.
Newcastle's final winning margin was their biggest lead of the night and their dogged opponents Leicester had their biggest lead of seven points way back in the first ten-minute period. It was a game played at high speed with a huge degree of offensive execution by both sides.
Somewhat against the norm where these two sides are concerned. They usually are involved in games where the defence dominates but this time it was an offensive explosion suited to the recent Bonfire night celebrations that swayed the day.
All of Newcastle's starters were in double figures which shows the potential of this exciting side which certainly play a real up-tempo style of play. Their speed down the court and willingness to take the first good shot open to them in evidence throughout a pulsating 40 minutes.
Watch the full highlights from the Morningside Arena, Leicester:
Trailing 6 – 2 in the early going Evan Maxwell made his first triple of the night which ignited both sides firepower as 4 more consecutive three-point shots hit their target, two for both sides. Corey Johnson for the home side was looking dangerous and his third effort from beyond the arc put his side up 25 – 18.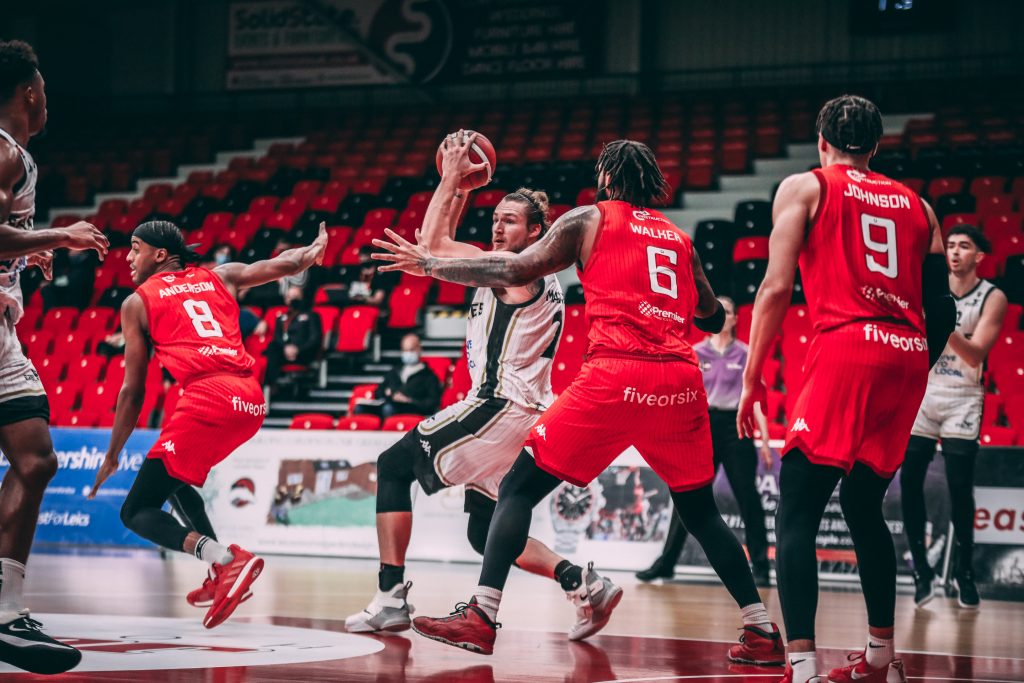 Eagles were not to be denied though and led by Rahmon Fletcher saw Darius Defoe get involved in the long-range efforts with a bomb of his own which Cortez Edwards added too. The last action of a scoring feast in the first quarter went to Leicester's big Mo Walker to give them a 30 – 29 lead.
The scoring did not slack off a touch at all in the second. After Conor Washington had put Riders up by four with yet another triple, Fletcher responded with back-to-back outside efforts to send the visitors back in front.
Nip and tuck, back and forth the two teams went at pace and somehow it was fitting that the final act of an incredible first half was a late Louis Sayer's dagger that clawed the Eagles level at 57 – 57 as the sides went to the locker rooms to take a deep breath.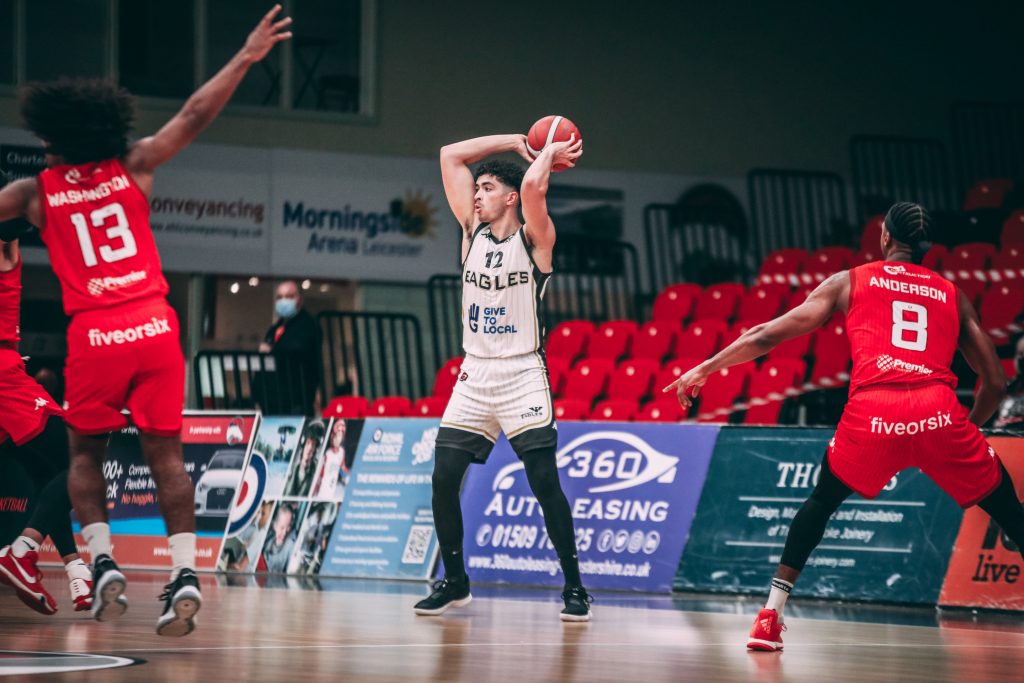 If the coach's made adjustments it wasn't entirely obvious as the scoring continued with Leicester moving 69 – 64 in front early in the second half. But the Eagles dug in and found their touch again with an 11 – 2 run that turned things around once again.
William Lee's buzzer beating three gave the home side a one-point advantage going into the final ten minutes. From there it was anybody's ball game. That it came down to a win on the road was due to the way that Newcastle finished the game which would have delighted Macleod.
Watch all 14 of our Eagles' three pointers at Riders:
Trailing 96 – 93 they came up with the last nine points of the game as Maxwell provided seven of them including another triple to take him to a game-high 26 points and lead his team to a memorable victory.
These two teams meet again at the Eagles Community Arena this coming Friday and on the evidence of this showing that's certainly going to be another fantastic game to tune into. For Newcastle Fletcher added 10 assists to his points tally for an excellent double-double.
Maxwell was dominant and there was another fine performance from Justin Gordon. However, the Eagles most efficient player was silky smooth Cortez Edwards who had 17 points, 9 rebounds and 6 assists in a great team performance.