All attendees of the Matchroom Boxing: Ritson vs Ponce event at the Vertu Motors Arena on Saturday 12 June 2021 must agree to follow the COVID-19 Spectators Code of Conduct below that we have put in place before attending.
The following is in addition to the standard Matchroom Boxing Terms and Conditions (found on your ticket) and Vertu Motors Arena terms and conditions for the Vertu Motors Arena or Matchroom Boxing events, during the government's Spring 2021 Roadmap Step 3 (17 May until no earlier than 21 June) all event attendees must also agree to follow the COVID-19 Spectators Code of Conduct below that we have put in place before attending.
Please ensure that all members of your group are familiar with these rules before travelling to the arena.
VENUE MAP
Please firstly familiarise yourself with the layout of the venue: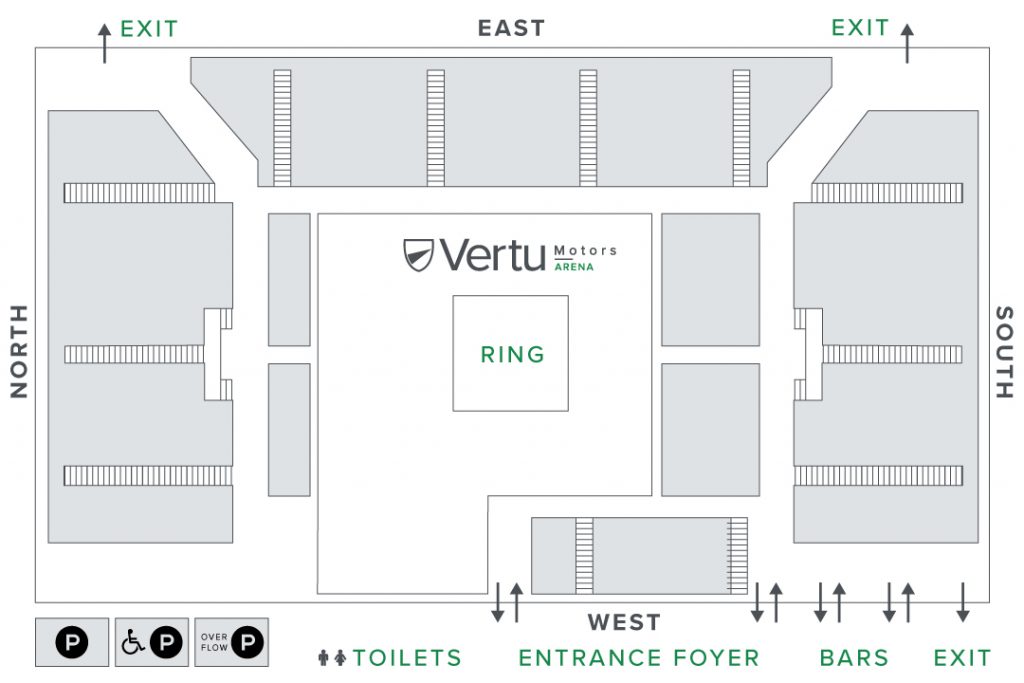 In order to assist our staff and stewards, and to help protect you and your fellow spectators, you are kindly asked to follow these guidelines:
ATTENDING THE ARENA
Attend the event and only sit with your booking group of either two, three or four
If you are booking tickets for other people in your group, you need to provide names and contact details in line with the NHS Test and Trace regulations at the point of purchase
If you develop COVID-19 symptoms within 14 days of the event (or you should be self-isolating for any other reason) then you must not attend the arena, refunds will only be given if evidence of a positive COVID-19 test is provided
Ticket holders are encouraged to carry out lateral flow test before attending the venue, even if they do not have symptoms of coronavirus (COVID-19).

Test kits are free and available from the NHS or your local pharmacy to find out more information visit nhs.uk

If you develop COVID- 19 symptoms whilst at the arena, please notify the nearest member of staff immediately
The arena will open at 5pm and no one will be permitted entry after 9pm
Spectators are advised to allow extra time for all journeys to the arena, particularly on public transport as social distancing may mean that it's not possible for you to board the first bus that arrives
Spectators should ensure that social distancing is maintained on the journey to the arena, including on public transport and in any queues to enter the venue
If arriving by car, please pre-booking parking as no other spaces will be available.
On arrival in the car park please remain in your vehicle until your group are ready to enter the venue together
Admission to the arena will be through the front entrance
Ticket scanning will be performed on entry, which will be used for NHS Test and Trace purposes, only the named ticket holder will be admitted
You may be required to show photo ID if requested on your way into the arena and if this check is not validated, you may not be permitted entry
To help reduce queues on entry, no bags larger than A4 size will be permitted within the venue
You will be searched by security and your temperature may be taken before entering the arena
HANDS
Hand sanitiser will be available at the points of entry, toilets and in the food and drinks areas of the arena
Spectators are advised to wash their hands for 20 seconds or more when using the toilet facilities
Spectators should avoid touching their face, door handles or railings where possible and use the hand sanitiser provided around the venue
Arena staff will regularly clean toilets and touch points throughout the event
FACE
Spectators must bring either a suitable face covering or visor and it must be worn by spectators from arrival to the venue, queuing to enter and at all times inside the arena, including whilst seated, unless:

under 11 years of age
when consuming food and drink at your seat
medically exempt

If you are medically exempt you must instead wear a visor and show a medical exemption card, which can be downloaded from gov.uk, and have this available to show during your visit 
SPACE
Spectators must make every effort to maintain at least 1m+ social distancing at all times when they on arena site, including:

the car park and front entrance plaza
moving around the arena to and from seats
when speaking to or around working members of staff or stewards
queueing – to avoid close contact with others not in your booking group
in food and drinks areas
exiting the event

Spectators should avoid hugs, high-fives, handshakes or any other close contact with people who are not within their group
Based on public health advice for indoor events, even where face coverings are worn, spectators encouraged not to participate in any activity that can create aerosols that can spread COVID-19, including singing, shouting and chanting.
Moving around the stands, spectators should face away from others in the row
RE-ENTRY AND SMOKING POLICY
This is a no-smoking event and no re-entry to the arena will be permitted
FAILURE TO COMPLY
Failure to comply with this code of conduct and COVID-19 Health & Safety precautions is likely to result with ejection from the event
FOOD & DRINKS AREAS
Food and drinks can only be consumed by spectators whilst they are sitting their designated seat
Face coverings must be worn by everyone moving to, inside and back to seats from the food and drinks bar areas, unless medically exempt
Only one member of each booking group can attend the bar at any one time
Inside the bar areas, spectators must follow the one-way system and obey the instructions of staff and stewards at all times
To assist with the management of social distancing in queues, spectators may be directed to a different bar
All payments inside the arena will be contactless and cash payments will not be accepted
EXITING THE ARENA
Exit the arena as directed by staff and stewards
It may be necessary to exit one stand or section at a time, supporters are advised to allow extra time for departing the venue
---
Please make sure all the other guests in your party have read and understood these guidelines.
The Vertu Motors Arena and Matchroom Boxing reserve the right to eject any spectators who fail to comply with this Code of Conduct.
Thank you for your support and co-operation with these rules.
Please stay alert, follow these guidelines and help us all enjoy the event safely.