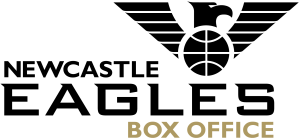 We are pleased to introduce our brand new innovative ticketing platform for the coming season and beyond, the Newcastle Eagles Box Office.
Fans will be able to securely purchase tickets for BBL and WBBL games, as well as other Eagles events, all in one place!
In the new system discount vouchers, special offers and golden tickets are redeemed after you have selected your seats by entering a code in the cart before you checkout.
Go to the Newcastle Eagles Box Office
Working with our new ticketing partner VenueManager we are excited to be able to offer all our ticket purchasers, season ticket holders and sponsors the best possible experience in managing their access to games at our Eagles Community Arena.
Newcastle Eagles are the first British club and venue to implement the award-winning digital solution provider and join a client list of more than 25 professional sports clubs in Denmark and Germany.
TICKETS ON EMAIL AND MOBILE DEVICES
Tickets can now for the first time be sent straight to you on completion of a purchase ready for printing or showing on a mobile device for scanning on entry to the venue.
You can also add a ticket to your Apple Wallet or Google Pay Passes tab.
If you prefer to collect tickets on arrival at the game you can still do that for an additional fee by selecting 'collection' at the checkout.
SEASON TICKET HOLDER BENEFITS
BBL season ticket card holders will get the benefit of discounted prices on additional seats, pre-season tickets, parking and WBBL game entry, when they login.
APP COMING SOON
We will shortly be launching an Eagles app allowing you to manage your account and access exclusive Eagles content and discounts, as well as purchase game tickets and more.
VIP HOSPITALITY AND SPONSOR ADVANTAGES
Our sponsors will also be able to take advantage of the all-new box office in claiming and sharing their VIP Hospitality seat and dining reservations, as well as any additional tickets, all from within their account.
NEED ASSISTANCE?
If you need any assistance with the Newcastle Eagles Box Office please email [email protected] and we will be pleased to help you.
Go to the Newcastle Eagles Box Office