Two North East organisations committed to healthy living reinforce a special relationship rooted in community support when top-flight basketball returns to the Vertu Motors Arena on Friday.
The groundbreaking partnership between Northumbria Water and the Eagles Community Foundation continues to make a splash across the North East.
And Friday's BBL clash between Newcastle Eagles and Glasgow Rocks — live on Sky Sports — will showcase the synergy at the heart of a longstanding affiliation.
Half-time will feature the final of the 2022 Newcastle Hoops 4 Health tournament supported by Northumbrian Water's Powered By Water programme.
And during the third period break, hundreds of young fans will take part in the popular Chuck A Duck challenge with all proceeds going to the Water Aid charity.
Louise Hunter, Northumbria Water Corporate Affairs Director, said: "We are proud of our longstanding partnership with the Newcastle Eagles.
"Along with our other partners they help us teach tens of thousands of youngsters every year about the importance for water for health.
"It's really important that young people stay hydrated by drinking our clear, great tasting tap water.
"Staying topped up throughout the day will keep them healthy and give them a boost when working hard in the classroom and during physical exercise.
"We hope our Powered by Water programme will help them to stay healthy, hydrated and active throughout their lives."
Louise, who chairs the Northumbrian WaterAid Committee, can't wait to see another capacity crowd chuck their little red ducks in support of a charity that benefits communities on a global scale.
"As founding members of WaterAid in 1981, our employees have been raising money for more than 40 years to bring clean water and safe sanitation to countries around the world," she added.
"Every duck chucked during the Rocks game will help us to maintain that support."
Northumbrian Water has been at the forefront of the Eagles Community Foundation's hugely successful Hoops4Health programme for several years.
Earlier this month almost 250 Tyneside schoolchildren flocked to the Eagles' Vertu Motors Arena in search of a semi-final spot in the 2022 Newcastle Hoops4Health tournament.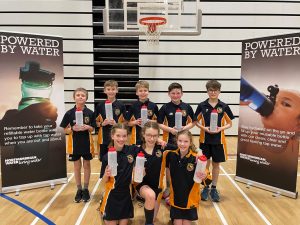 Twenty-three teams started out with dreams of clinching a return trip to the VMA and St Alban's Primary (Walker), Gosforth Junior High, Gosforth Central Middle and St Teresa's Primary (Heaton) made it through to Friday's final four.
The semi-finalists will battle it out prior to the Eagles tip off against the Rocks in front of a capacity crowd.
And the final will take place during half-time before the winners are presented with their medals by the Powered By Water team.
Sam Blake, Eagles Community Foundation's CEO, said: "Northumbrian Water and their Powered By Water programme are pivotal to the success of Hoops4Health.
"It will be great to see the Powered By Water team courtside on Friday for what will be an exciting finale to the this year's Newcastle tournament.
"Friday will really bring home the importance of a mutually beneficial relationship that grows stronger year on year.
"It's been a pleasure to work alongside Northumbrian Water and support WaterAid as they campaign for clean water for all — something most of us take for granted.
"It'll be a spectacular sight watching the sell-out Eagles crowd get behind the WaterAid team next Friday as our young fans raise money for the charity during the popular Chuck A Duck challenge."