In the latest instalment of our summer break series of features on and interviews with former Eagles and faces of British Basketball, reporter Johnathan Ramsay caught up with fan favourite Andrew Bridge who believes we 'need to work harder' if we want to bounce back into the top two next season…
The Derbyshire-born shooting guard represented the Eagles for a decade – serving as a key player in Fabulous Flournoy's clean-sweep winning squad of 2012.
Since retiring from the game back in 2013 – after a year with Sheffield Sharks – Bridge spent time working with youth organisations teaching sport before moving on to a career in organising events.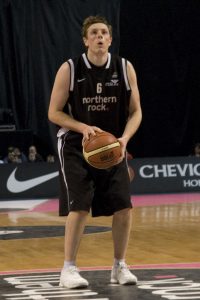 "Looking back at my time with the Eagles, the fact that I actually got to play professional basketball is a highlight in itself as I never went into it thinking it'd be my job," he said.
"In hindsight, leaving Sheffield and coming to Newcastle really helped mould me into the person I am today. It made me step out of my comfort zone and develop as a person – it was just a fantastic period in my life."
Throughout his time at the Eagles, Bridge played alongside – and was coached by – Flournoy in a squad that would become one of the most dominant forces in the BBL.
"Fab could be a bit intense at times," added Bridge.
"But it was all driven by his will to have the best for you as a person and as a basketball player – I never had an issue with him.
"I think because I played with him as a player I could draw the line between coach Fab and player Fab. When he turned into coach Fab you just had to stand there and take in what he was telling you!
"I can only remember one argument we had where I wasn't happy as a player and he was upset as a coach. But it was all born out of the fact that he wanted his players to be the best."
Last season the Eagles finished third in the BBL, their lowest league placing in the last decade.
"Looking from the outside in, I just didn't like the way the team played last season," added Bridge.
"Everyone used to say that Newcastle used to win because they had more talent than everybody else.
"Newcastle didn't have more talent than everybody else but the Eagles always worked harder than everybody else.
"I look at last season's team and it seems to me that the players weren't working as hard as they could have been.
"For me, ideally, Newcastle would benefit from a two or three year rebuild. When Fab first took over I think it was something like four years until we started winning.
"Having said that, Fab's in the business of winning and winning now and I'm sure Paul Blake is too.
"They're probably going to be trying to put themselves back in a position to win straight away.
"In terms of coming back to the Eagles one day there's always a conversation to be had. I regularly talk to Paul on the phone about business and other things so never say never. We'll see what happens."