Next Friday night our Eagles fly back into action in another huge home tip-off against unbeaten new opposition when the league's freshest franchise, the London City Royals, visit Newcastle for the first time.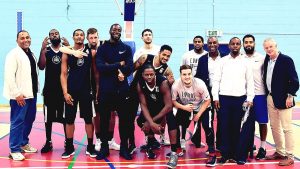 The new South London side stars one of British basketball's most successful exports in 6'10" Matthew Bryan-Amaning as their stand-out signing to launch the new team. 'MBA' has returned home for BBL competition after helping top teams in Argentina, Mexico and Japan to title successes through a stunning international career.
Bryan-Amaning made his mark on home soil with a starting place in this week's All Star Five after getting 28 points, 12 rebounds and three blocks in a historic victory for the Royals on the road at Bristol Flyers in their first ever BBL game where he clocked the full 40 minutes.
Watch the 'MBA' highlights courtesy of Hoopsfix:
A look back at @MBALIVE11's @BBLofficial debut, with 28 points, 12 rebounds and 3 blocks for @LDNCityRoyals in their win over @BristolFlyers! 💪🇬🇧🏀#BritishBasketball pic.twitter.com/rNiMVtLgQy

— Hoopsfix 🇬🇧🏀 (@Hoopsfix) September 26, 2018
The shiny new Royals will suit up against our Eagles in a week with some familiar faces too, including former Eagles and Phoenix forward Orlan Jackman and seasoned BBL shooting guard Elvisi Dusha.
It is going to be a game of basketball not to be missed!
Get your tickets now:
NEXT BBL HOME GAME