Join us for a great night of family fun with the chance to play alongside Eagles players at bowling, on the dodgems and arcades at Namco Funscape in intu Metrocentre on Sunday 21 April 2019 at 5pm.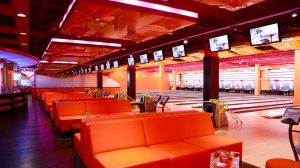 Seven fans and one Eagle will make up each bowling team.
Last time it was Drew Lasker and his team who won the golden bowling pin and our Eagles are definitely known for their competitive streak. so expect a lot of fun as the players swap basketballs for bowling balls and try to win the bragging rights with you this year.
Plus this year you'll also be able to get behind the wheel on the dodgems and button-bash against our Eagles on the arcades to make it a huge night of family fun.
Tickets are just £10 per person including bowling, dodgems and two arcade tokens, with a special discount on adults and kids meals also available to book when you call.
EAGLES & FANS NIGHT
NAMCO FUNSCAPE, INTU METROCENTRE
SUNDAY 21 APRIL 2019 5PM
You can book a single place or multiple places up to a whole team of seven, but lanes are limited so booking is first come first served.
Book now by calling Namco Funscape direct on 0191 406 1066.