We are pleased to announce that work has begun on a brand new, purpose-built community sports arena as the new multi-million pound home for the Eagles Community Foundation (ECF).
The state-of-the-art venue will house our award winning North East charity and host the region's most successful sports team – our Esh Group Eagles Newcastle.
It is anticipated that more than 11,000 people will be engaged in sport during the facility's first year. And more than 1,000 disabled users will be encouraged to play sport annually at the arena – based at Riverside Dene in Elswick, reflecting the ECF's commitment to deliver recreation and education opportunities to the wider community. The new venue will provide a home for the ECF and enable it to develop its current player pathway structure under one roof whilst also providing educational routes and workforce development.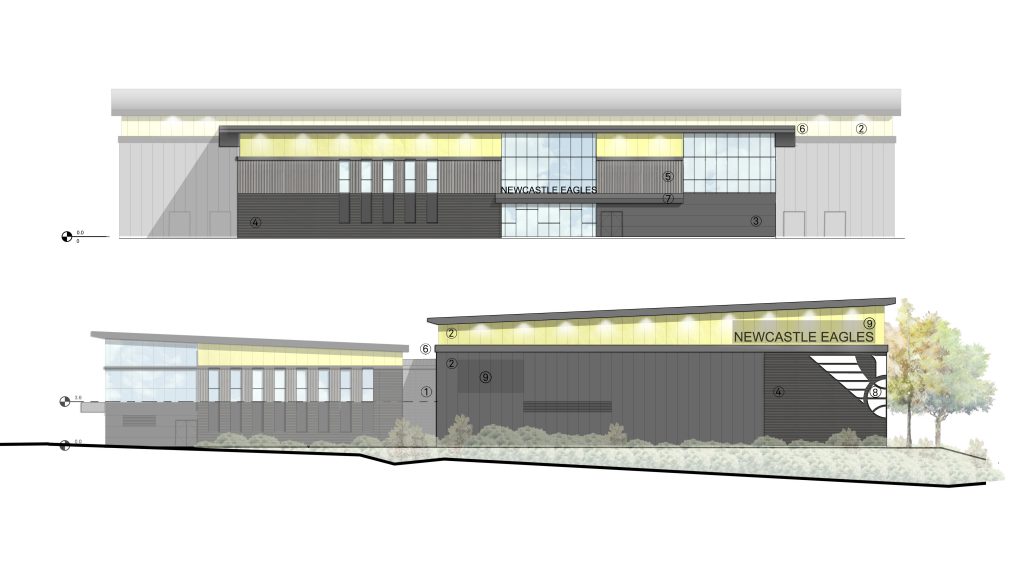 The move to the 2,800-seater venue will allow the most successful franchise in British basketball history to pursue its long-term dream of competing on the European stage.
Breaking ground on the new project brings to fruition a long-term partnership between ECF and Newcastle City Council, the North East Local Enterprise Partnership (NELEP), Sport England and Newcastle College.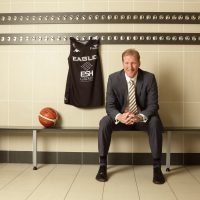 "This has been several years in the planning but we can finally see the light at the end of the tunnel," revealed Eagles' Managing Director Paul Blake, who celebrated 20 years with the club earlier this year.
"We have been immersed in this project day and night for as long as I can remember and to reach the point where we can begin work on our new home is incredibly exciting.
"Of course it marks the beginning of a brand new era for Newcastle Eagles and Eagles Community Foundation and I know that everyone at the Eagles shares my keen sense of anticipation.
"From day one the construction of the Eagles Community Arena (ECA) was also about delivering a facility that welcomes people of all ages and abilities and encourages healthy living and wellbeing through sport.
"That's what we will have and I'd like to place on record my huge thanks to our partners at Newcastle City Council, NELEP, Sport England and Newcastle College.
"This is a significant day in the development of sport in the city and region, something we should celebrate."
The ECA will be open for 362 days a year and stage up to 40 events annually – including a minimum of 22 Eagles' fixtures. The venue will be open from 8am-11pm daily and embrace a wide range of sports clubs, organisations, age groups and abilities – becoming a focal point for leisure and recreation in the West End of Newcastle.
Cllr Joyce McCarty, Deputy Leader of Newcastle City Council said: "This new sport arena will provide a bespoke dedicated home for the Eagles, along with much needed community leisure facilities in Newcastle's West End.
"We are delighted to be working with the Eagles Community Foundation to extend their community outreach activities. Our commitment is to increase participation in sport which we know has lasting health and wellbeing benefits and helps bring communities together.
Cllr Ged Bell, Cabinet Member for Inclusive Growth added: "We've worked closely with the Eagles in bringing this new stadium forward over a number of years, so today is a significant milestone and testament to the strong and committed partnership behind these plans.
"This new purpose built facility will become a great asset to the residents of Newcastle and the wider region, and we wish it every success."
The new facility will cater for grassroots initiatives for all ages and abilities, from pre-school community programmes to senior European club competitions and Great Britain international events.
And new jobs, training and educational opportunities are among the benefits associated with the ECA development.
The project received a £1.1m grant from the Local Growth Deal through the North East Local Enterprise Partnership.
Michelle Rainbow, Skills Director at the North East LEP, said: "The Eagles Community Arena project will not only provide opportunities for sports participation but it will create a new facility where the community can access opportunities to learn new skills and enhance their chances for employment. We're very much looking forward to seeing the project develop over the coming years.
She added: "Infrastructure such as The Eagles Community Arena plays an important role in supporting the North East LEP's inclusive approach to delivering the strategic economic plan for the region which aims to create 100,000 more and better jobs by 2024."
Sport England will work alongside Eagles and Foundation staff to deliver grassroots programmes across a range of sports with the ECA positioned as a multi-purpose venue.
Sport England's Director of Property Charles Johnston said: "We're delighted to support the creation of Newcastle Eagles' new sports arena using money raised by National Lottery players.
"In addition to being a home for the Eagles, it will provide a venue for the Eagles Community Foundation to help thousands of people across the region get more active.
"Sport England have been working with the Eagles to make sure there are plenty of appealing grassroots sports opportunities on offer for people of all ages and abilities, including facilities that will make it easy for disabled people to get active."
Significantly, the ECA will provide invaluable sports participation space for Newcastle College – one of the largest further education providers in the country with more than 10,000 students on campus every day.
Tony Lewin, Principal at Newcastle College said: "We've worked closely with the Eagles Community Foundation over the past few years on this project and we're now excited about the opportunities this new arena will create.
"The Foundation shares our goal of widening participation in education through community initiatives and to have a development like this on our doorstep brings many benefits. It will not only give our students access to state-of-the-art facilities but it will allow us and the Foundation to collaborate and reach out to local residents, providing them with unique opportunities to participate in sport and education."
Construction experts at Esh Group are building the arena for the Eagles Community Foundation.
Andy Radcliffe, chief executive of Esh Group, said: "It's fantastic to begin work on this exciting project that will deliver real value to Newcastle and the surrounding area.
"The Eagles' and Esh Group both share an ethos of supporting the communities in which they work."
Works starts in earnest this week and after two decades on Tyneside the Eagles and Foundation look forward to a bright future.