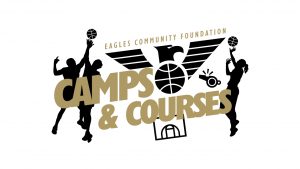 Our Easter 2023 Basketball Camps are available to book now for Under 8s through to Under 16s.
The camp days are for players of all ranges of ability and take place from Monday 3rd to Thursday 6th April 2023.
BOOK NOW ON THE NEST
Please see below for details about each camp date:
U12, U14 and U16 Boys and Girls
Monday 3rd – Thursday 6th April 2023
9am – 3pm
£18
We are also offering parents the chance to drop-off players early from 8:30am at a cost of £5 per child.
U8 and U10 Boys and Girls
Monday 3rd – Wednesday 5th April 2023
12pm – 4pm
£12
The activity booking can be made now from your Newcastle Eagles Nest account.
Players doing the 09:00 to 15:00 need to bring a packed lunch and refreshments with them.
BOOK NOW ON THE NEST