Proud sponsors of our Women's British Basketball team, North Shields micro-pub Enigma Tap have raised over £3,500 for The Bay Foodbank during the lockdown.
The pub has remained closed for the majority of the coronavirus (COVID-19) pandemic, but the Govenerment enforced restrictions haven't stopped them from raising a huge total which will help to feed families in North Tyneside.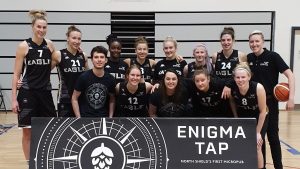 Owners Abbie Naisbitt and Luke Orwin are familiar faces at the Eagles Community Arena, as both BBL and WBBL statisticians, 'Wings Team' volunteers and sponsors of our women's franchise.
The Bedford Street taproom has pivoted to offering collections and delivery since the outbreak, all while donating 10% of their sales to the foodbank and organising a fundraising weekly virtual pub quiz.
This week Enigma Tap also pledged its continued sponsorship of our WBBL team into next season.
We are sure that all our Eagles family will join us in congratulating Abbie and Luke on raising so much for such a great cause and extending a huge thank you for their continuing support of the club.