Throughout the coronavirus (COVID-19) pandemic postponement of the BBL season, both here on our website and in our "Eagles Nest-In" series of video interviews and game replays, we hope to shine a spotlight on some of the off-court Eagles squad of volunteers.
We call them our 'Wings Team' as each of them have played their part in helping us fly to new heights over our history and everyone at the Eagles is very grateful for everything that all of them do to support the whole organisation.
There would be no history to look back on if it wasn't for the records we've kept and central to those archives are the thousands of photographs capture at our games, events and photoshoots over the years.
So, for the first of this series of posts about our amazing volunteers, we asked our official photographer Dave Moore to select the 'final-12' of his favourite snaps in his time behind the lens for the club and tell us a little about how he got involved.
---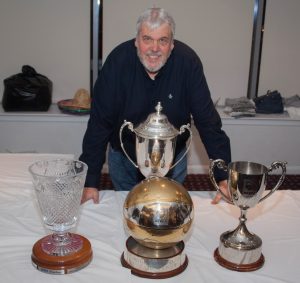 "It was the pre-season of 1995-96, my son won tickets to a game when the Newcastle Comets team visited his primary school, we saw a friendly at Gateshead Leisure Centre", Dave told us.
"That was the year the club moved to the Newcastle Arena, before being renamed the Eagles 12-months later.
"We attended all games that season, leading us to buying season tickets for 'the arena years' after that.
"I started taking pictures around the year 2000, but with pre-digital kit and poor lighting in the arena, they were not great shots and I was taking them mainly for the players.
"It was in 2010 that I started helping out more officially for the club as back-up photographer after the club's move to Sport Central.
"Around that time, maybe a year later, I was asked if I would like to photograph the Northumbria University Men's and Women's teams.
"Prior to the start of the 2012 season Paul Blake [Newcastle Eagles Managing Director] asked me if I would be interested in becoming the club's official photographer, and the rest is history.
Dave still photographs the women's team today, which has since become our Newcastle Eagles WBBL franchise, who also call the Eagles Community Arena 'home'.
It is thanks to Dave that much of the foundation's activity is captured and also many of our Academy's NBL and Junior NBL games too, as well as virtually anything else we ask him to shoot from player headshots to many of our team photos through the years.
"Some people ask why I volunteer for the Eagles, well I love sport and photography so I get to do the best of both worlds", Dave added.
"I started because I felt that these athletes, many of which in the other amateur sports teams I also photograph, deserved to see pictures of themselves doing what they love, as they may only do it for a short time.
"Being part of the Eagles family and the 'Wings Team' is great, through this I have made so many new friends – be they pro players, other fans, young players or their parents and other volunteers.
"I took early retirement in 2010 and this keeps me active and mentally engaged, although sometimes I think I'm busier than before I retired."
---
Interested in joining the 'Wings Team' to support the club and foundation as a volunteer? Email [email protected] for more information and to register your interest.
(Cover photo credit: Susan Gibson-Cummings)