As we welcome the biggest ever attendee numbers for our trials this weekend it's time to look back and recognise the Eagles Academy of 2018-19.
On the evening of Wednesday 1 May for the first time ever we hosted our Academy's awards night at our own home, the Eagles Community Arena.
Eagles game night commentator Howard Leighton was our host for the evening with special guests in attendance from our academy teams' sponsors, the BBL team, Eagles Community Foundation staff and trustees, along with many proud friends and family members.
Under 14 Girls
It was ladies first with the best of our new Under 14 girls team first up to receive their awards after their inaugural season the North division.
Our girls ended their campaign with a 10-6 record in the league and a fourth-place finish. Head coach Corinne Vaughan and assistant Ellen Totton acknowledged their squad's efforts in reaching the second round of the play-offs and a successful season overall for the young players who gained valuable experience and improved massively over the course of the year.
Coach Vaughan added that their dedication and hard work were rewarded with three players being selected to attend the initial Under 15 England camp, which is a great achievement.
Corinne told the packed Brian Manning Suite that next year's plan is to build on this success with most of the players going up to form a new Under 16s team, while the rest stay at Under 14 and they look to add new players.
Trophies were presented by Karen Weech from the team sponsor Most Sensational and a special thanks was given to the 2018-19 parents representatives Aly Weymes and Jo Beck.
Most Improved Player: Ciara Weddle
Defensive Player: Esra Kandemir
MVP: Yemisi Mefful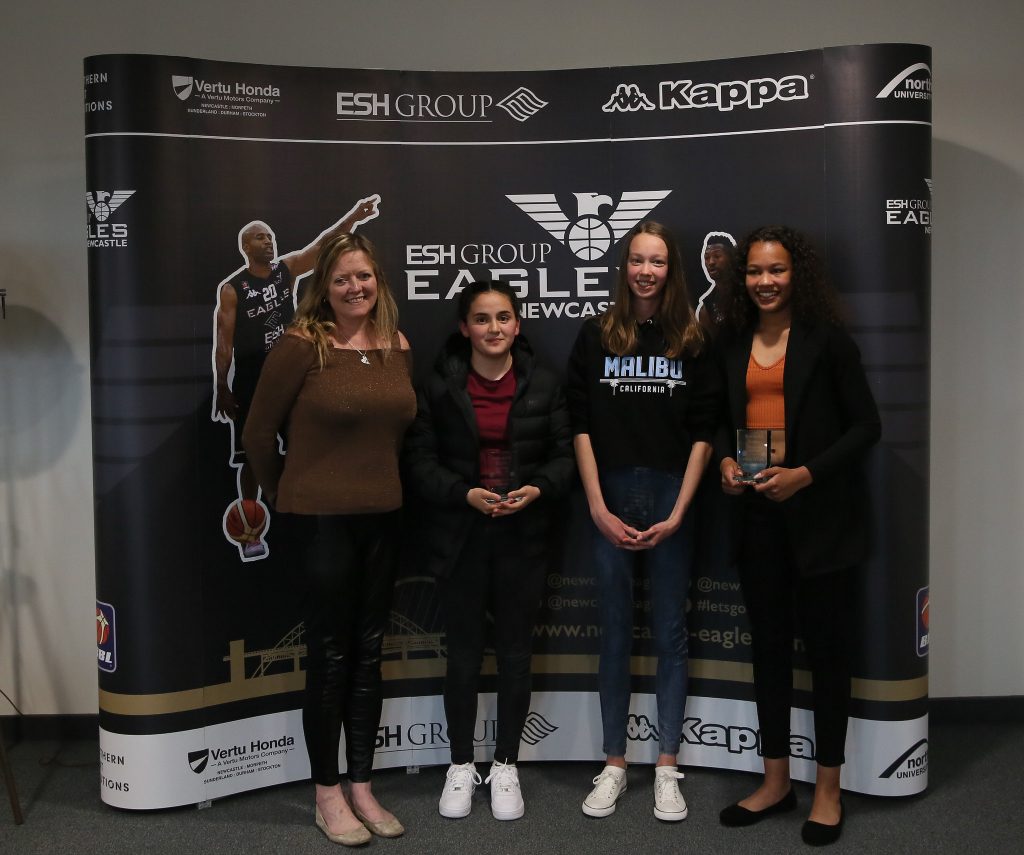 Under 14 Boys
The Under 14 boys finished their North Premier season in 8th position beating some big teams in the second half of the campaign making several strides in where would like to be.
Head coach Calvin George remarked how his young and inexperienced team took to Premier League basketball with just two returning players and nine debuting as Eagles who took time to get used to one another and understanding their roles within the team.
George acknowledged the progress they had all made as it came together in the later stages of the season with a bright future ahead for these young Eagles.
Mark Jerrard from team sponsor the Simpson Group presented the trophies and thanks were given to parents' representative Tori Ilderton.
Most Improved Player: Josh Osarenkhoe
Defensive Player: Kingsley Onyenekwe
MVP: Jakey Weech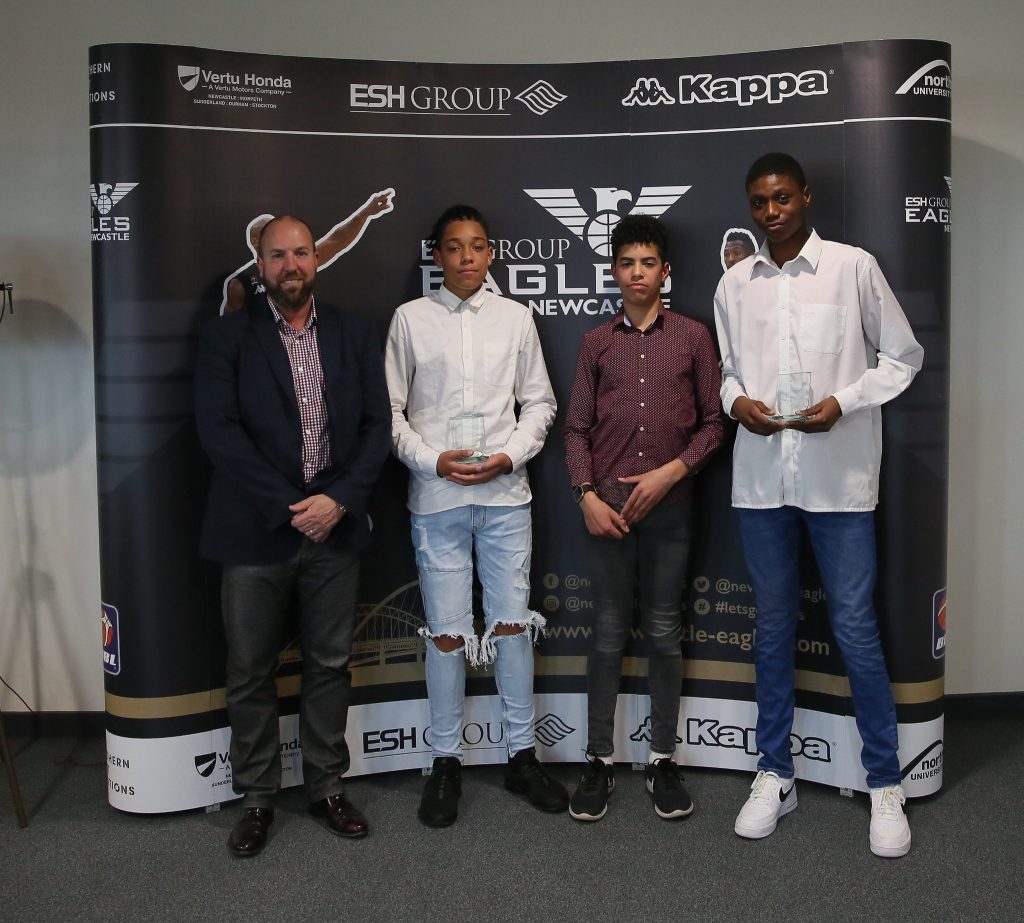 Under 16 Boys
The Eagles Academy Under 16s experienced a tough season under rookie Head Coach David Sayers and assistant Jay Hawman.  2018-19 North Premier campaign began with playoff aspirations, but left the youngsters languishing near the bottom of the table finishing 9th out of 11 teams in the division with a 5-15 record.
There were many bright spots throughout the season for the fledgling Eagles, including dominant victories away over Bradford Dragons and at home to Derby Trailblazers. Most stand-out result of all however was undoubtedly the overtime victory against Cheshire Wire in the Eagles first game at the ECA.
Eagles Community Foundation Performance and Mentoring Officer, EABL team head coach and BBL team assistant coach Ian Macleod made the presentations for the Under 16 boys and parents representative Mark Jerrard was thanked for his time this year.
Most Improved Player: Joe Hansom
Defensive Player: Rafe Clark
MVP: Elliott Jerrard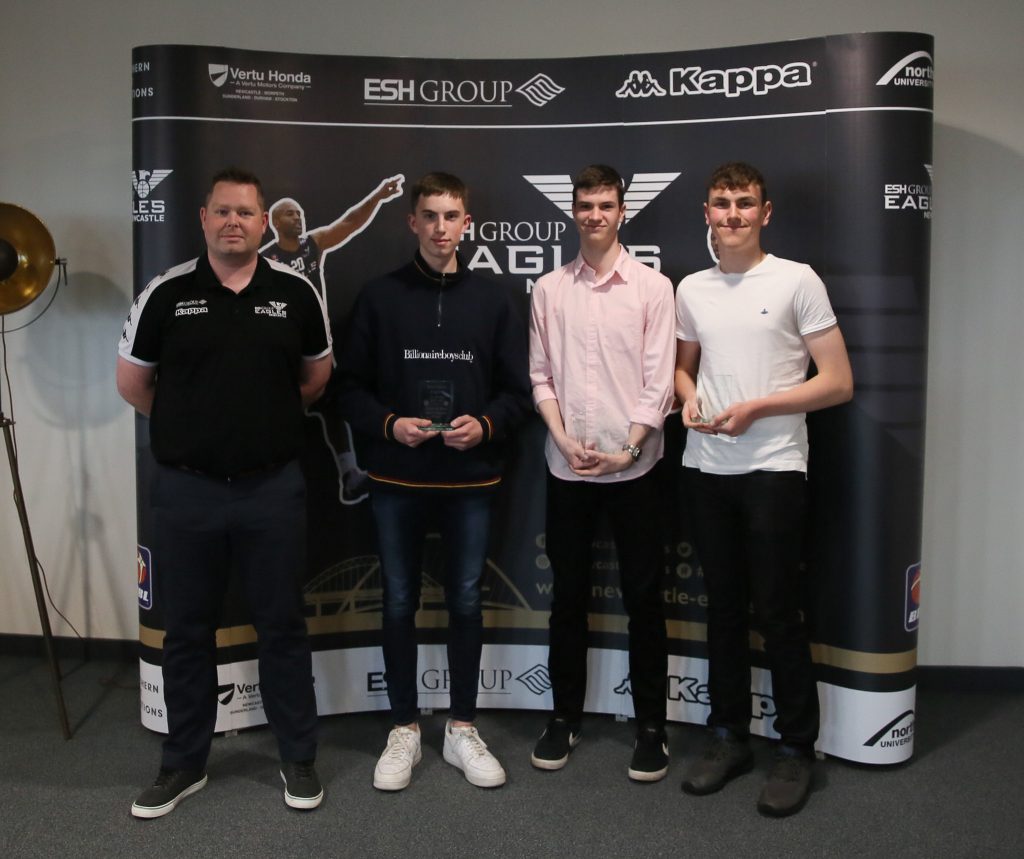 Under 18s Men
Head coach Miquel Vinyals-Paton and assistant Jay Hawman led the Under 18 Eagles through a tough 2018-19 season, despite starting with a win in their first game against Sheffield games that followed were against the top 2 teams in the league and significant losses against those strong teams impacted on the team.
Despite injuries and low number of players able to practice, the squad kept working hard and started to improve their game with good results and time which was reflected with wins, but even with better performances at the end of the season the final standing was 3 wins and 13 losses.
Trophies were presented by Rob Parkin from Specialist Panels UK Limited, our Under 23s team sponsor and big supporter of our Eagles BBL team and the whole academy. The coaches extended their thanks to the Under 18s 2018-19 parents' representative Paul Taylor.
Most Improved Player: Joe Moore
Defensive Player: Jeremy Lievin
MVP: Sauveur Kande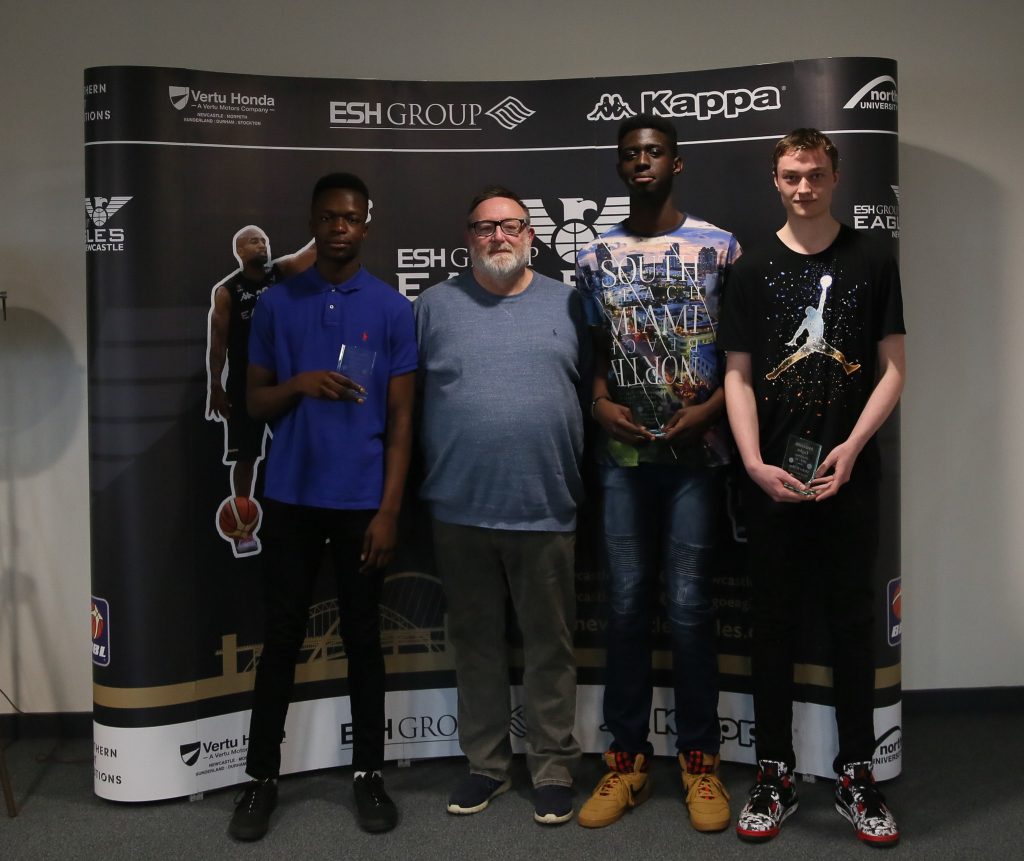 EABL
The 2018-19 basketball season represented a year of huge growth our Academy with 14 young athletes being selected to take part in a special squad to compete in the Elite Academy Basketball League (EABL) against the most promising young talent in the country.
The first season was a promising start to the programme with Tosan Evboumwan being voted into the "EABL Team of the year", Jeremy Lievin being crowned "Defensive player of the Year", as the team finished with a record of 4 wins and 10 losses.
EABL team head coach Ian Macleod spoke of how much of an important it had been as this new programme was something which the organisations had been aspiring to start up for some years and the players had done us proud showing good progression over the year and received national recognition.
Macleod explained that what was quite unique about our EABL programme was that we have allowed players to compete as Eagles without forcing them to study at a specific academy in the region and have academic freedom for the players to enjoy by studying at the school or college of their choice. Players represented a variety of institutions, including Gateshead College, TyneMet College, Royal Grammar School Newcastle, Gosforth Academy and Durham Johnston.
Trophies were presented by Paul Blake, Newcastle Eagles managing director and chair of the Eagles Community Foundation board of trustees.
Most Improved Player: Joe Moore
Defensive Player: Jeremy Lievin
MVP: Theo Riley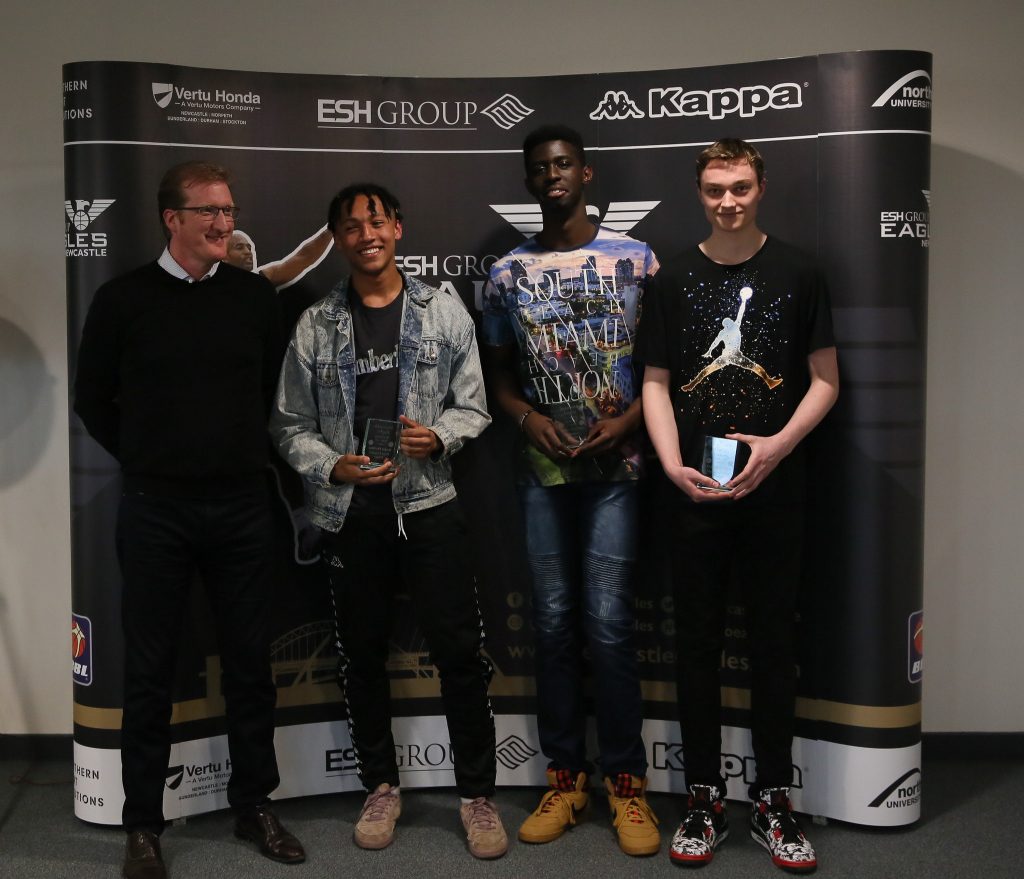 Under 23 Men
The final team awards were for our Under 23 Division 4 North players who had an exceptional season for our second time in the league since launching the new programme for our academy in 2017-18.
The U23s won the league this year with a record of 14 wins and 2 losses under head coach and head of our Eagles Academy Graham Heath, who was assisted by Giwrgos Kyriazo and Luc Heath.
Coach Health, who personally won the NBL North Coach of the Year from fellow coaches from across the league, gave individual player shout-outs to Rafael Camargo-Blas for his all round game this season as well as to Ishmael Ingram for his leadership and Tom Usher for his consistency and his captaincy.
Graham added that winning the division was a massive team effort from all players, the coaching staff and to all the fantastic supporters who were there for the squad both home and away.
Eagles Community Foundation coach and North Tyneside development officer Shaun Malone made the presentations and thanks were given to the parents' representative and team sponsor Rob Parkin from Specialist Panels UK Limited.
Most Improved Player: Chris Linsley
Defensive Player: Ishmael Ingram
MVP: Rafael Camargo-Blas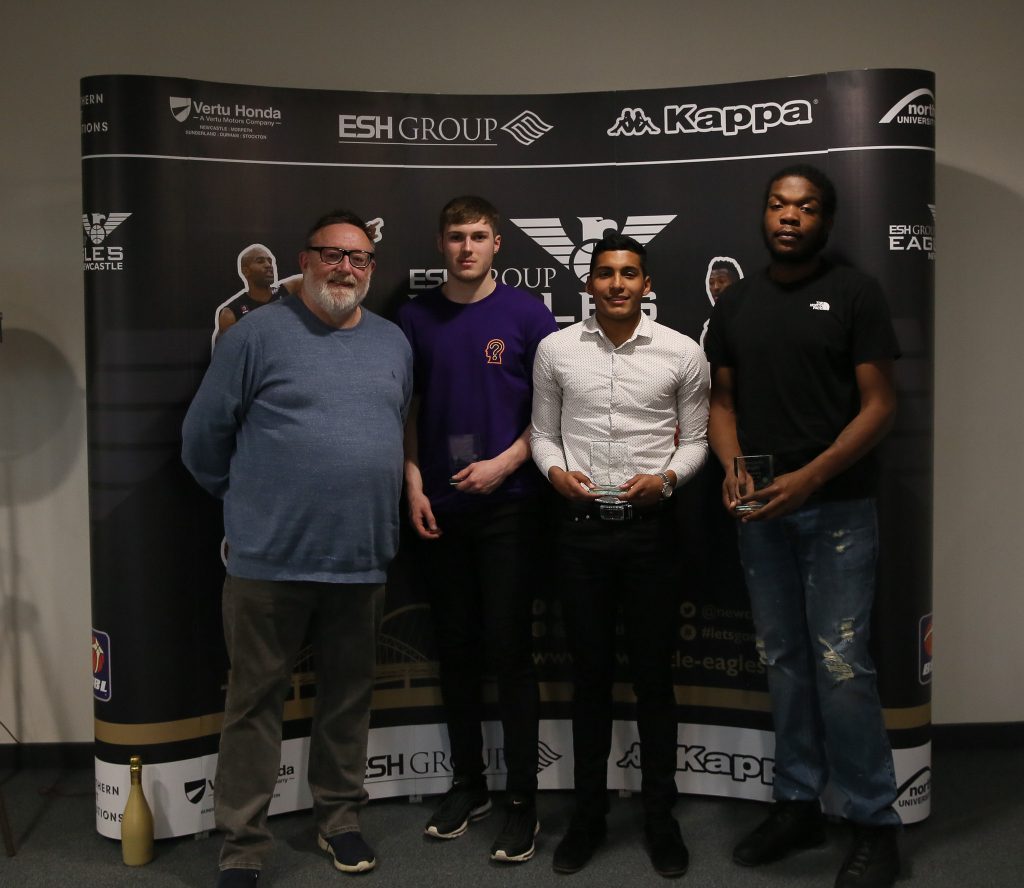 Rachel Rushton Memorial Shield
The Rachel Rushton Memorial Shield was kindly donated by her family after she tragically passed away after a long fight against cancer.  Rachel and her family have been strong supporters of our Academy, formerly known as our School of Excellence, and basketball in the North East for over 11 years with Rachel's son Chris coming right through our ranks.
This year the shield which is awarded to our overall Most Improved Player by our head of our academy programme Graham Health went to Under 23s player Chris Linsley.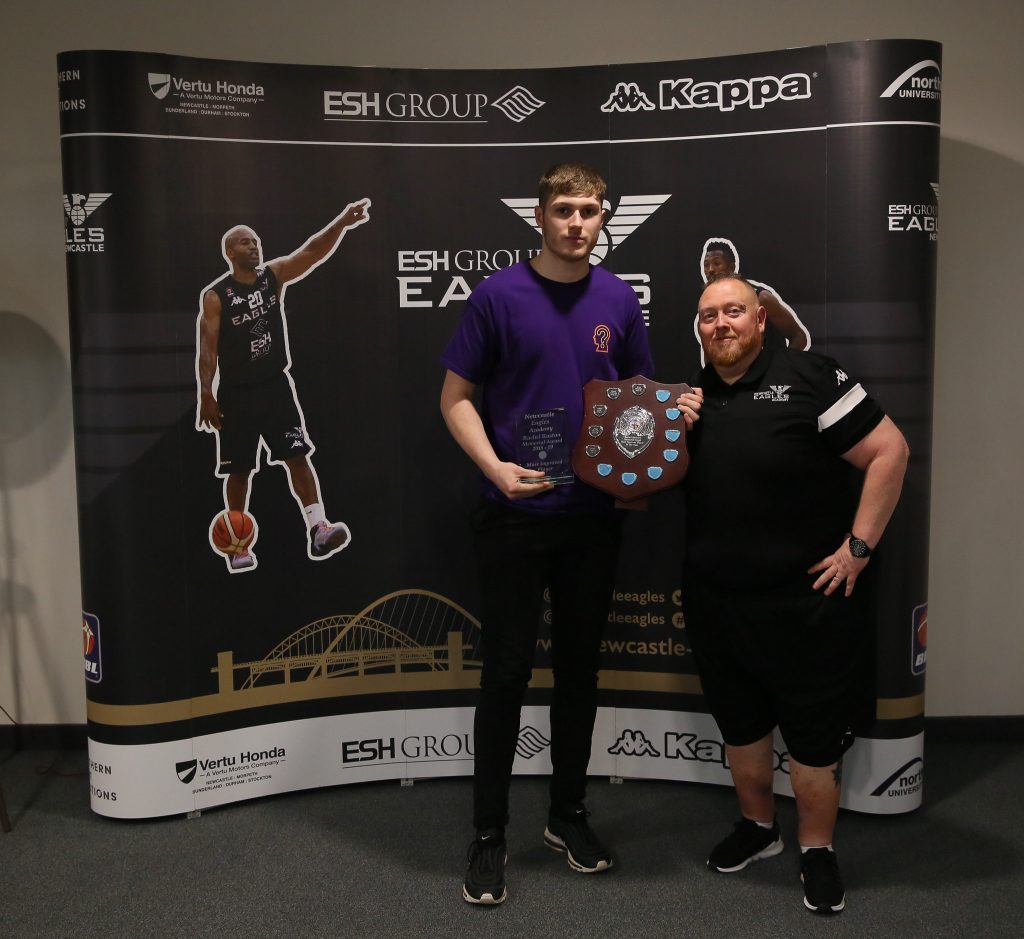 Academy Player of the Year
Our final award of the year is presented to the player who goes beyond their performance on the court, although this is an important element.
The recipient of the Academy Player of the Year trophy shows sportsmanship and respect to coaches, officials and their teammates, acting as a motivator for fellow players across our programme and exemplifying everything we look for in Eagles.
This year's winner started their basketball far away from our shores, playing in the UK for just two years and making a big impression in their first year within our academy program.
They have made a massive impact both on and off the court and have led their team in scores, assists and second in rebounds. Off the court this person shows excels at bonding with team mates, is very coachable and has a great personality.
The 2018-19 Academy Player of the Year is Rafael Camargo-Blas.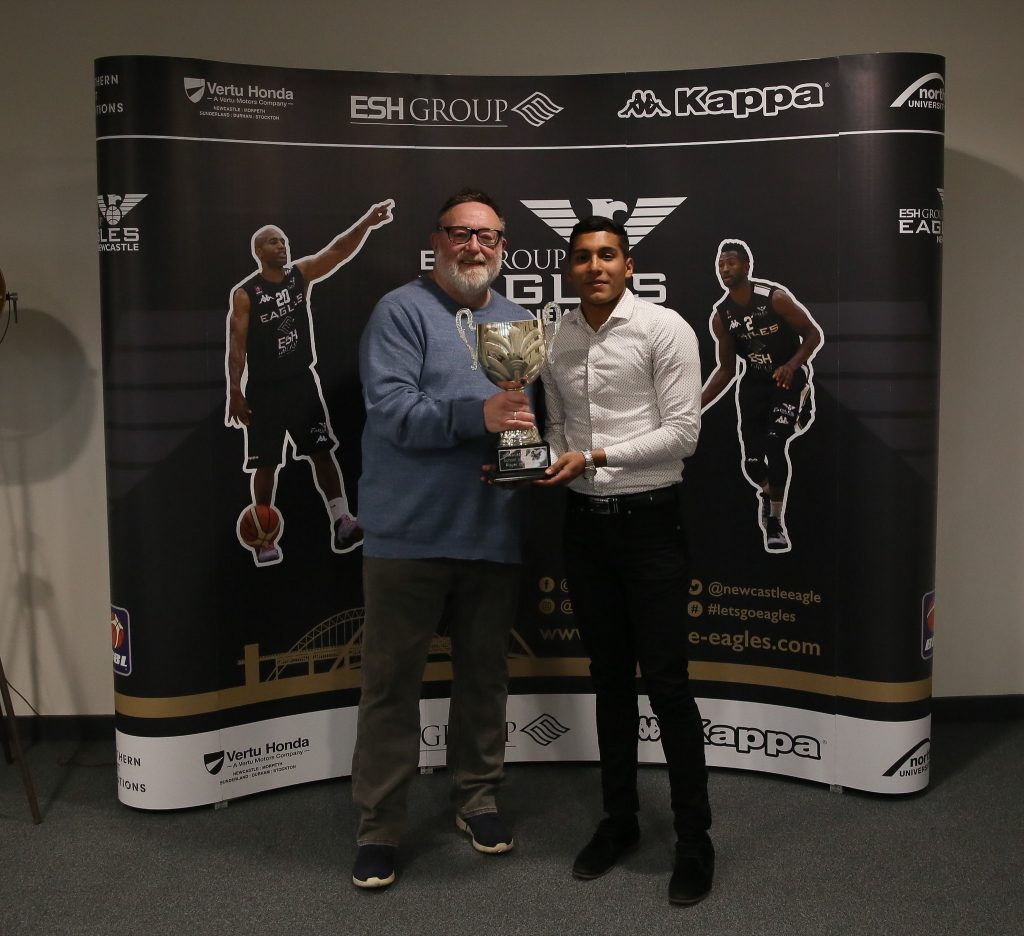 You can find out more about our Eagles Academy on this website and follow the progress of the 2019-20 squads as they begin their next season after the summer break.
Thanks to all of the players for a fantastic year especially with the move into our new home of the Eagles Community Arena and we look forward to seeing many returning faces as well as new players joining us as we being preparations for the new campaign.