Today was a massive testament to the efforts of partners across Newcastle as a major leap in the NHS COVID-19 Vaccination Programme was made in our city
Just last week we announced that the number of vaccinations taking place in one day at the Eagles Community Arena had set the city's one-day record 1,254 jabs being administered over an eight-hour day and today an amazing feat topped that in an even quicker time.
Today in just 6 hours 2,320 people received vaccinations against coronavirus thanks to the teamwork between staff and volunteers of Newcastle GP Services, Newcastle City Council, other Collaborative Newcastle partners and the Eagles Community Arena.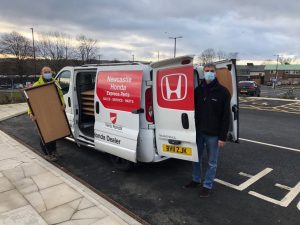 We'd also like to extend a big thank you to two of our Scotswood Road neighbours, Vertu Motors Honda Newcastle and Newcastle College, for their support with vehicles and furniture to assist in the set-up of this first one-day-two-court takeover.
The NHS is currently offering the COVID-19 vaccine to people most at risk from coronavirus who are being contacted with further information.
Do not to contact the NHS to get an appointment or attend a COVID-19 Vaccination Centre until you hear from your GP.
You can find out more about the vaccine and the vaccination programme on the NHS website.
If you can work or volunteer at a vaccination centre, in clinical and admin roles, working as marshals and more, find out all the details on the Newcastle GP Services website.