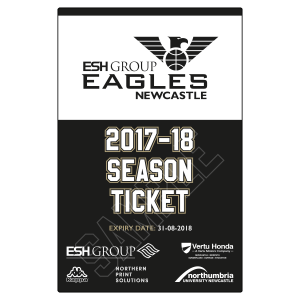 With an Esh Group Eagles Newcastle 2017-18 Half-Season ticket, you're all covered through to the end of the season.
Your ticket includes all home BBL Championship, remaining Trophy games plus the potential Play-Offs Quarter Final for a minimum of 12 games.
TICKET TYPES AND PRICES
Adult £120.00 (age 16+)
Child £100.00 (age under 16)
Concession £110.00 (age 65+ / full time student with ID / carer)
SEAT SELECTION
Please let us know your desired stand, row and seat number(s) in the SPECIAL INSTRUCTIONS FOR SELLER box in your shopping cart and we will contact you to confirm or offer alternate seats.
You can check availability by attempting to purchase single tickets to a game later in the season.
WHY BECOME AN EAGLES HALF-SEASON TICKET HOLDER?
Guaranteed the same seat every game:
Buying a half-season ticket guarantees the seat you want for the rest of the season.
Save money on every game:
Half-season tickets are great value and offer huge savings against full and concessionary prices.
Plus, you can get extra single tickets sat next to you from just £7.50 with no booking fees.
Beat the queues:
Use our season ticket holders entrance to get the quickest and easiest entry into the arena.
Even more exclusive discounts:
Full and half season ticket holders have access to the following offers and more:
— 10% off all Eagles Kappa Replica Kit both at games and on our website
— Flash club shop sales in your inbox across the season
— Up to 20% off Nike apparel and footwear
— Exclusive discounts across the region on family activities, in restaurants and more
Including 20% off food at the Zapatista Burrito Bar on Ridley Place every game night.
INSTALMENT PAYMENT PLANS AVAILABLE
To pay by instalments please call the box office on 0191 245 3880.
Terms and Conditions:
See the downloadable leaflet and application form for full terms and conditions of the Eagles Season Ticket.
Details of discount offers will be updated on emails to season ticket holders and on a list maintained on our website.